PRNL Recognizes Two for Live Saving Actions
Date:
November 17, 2008
Contact:
Tim Colyer
, 906-387-2607, ext. 203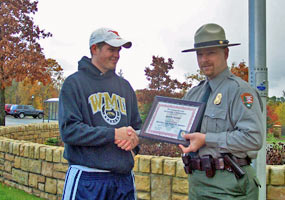 (Munising, Mich.) Two men from downstate Michigan were recognized for their selfless and heroic actions related to a near drowning incident at Pictured Rocks National Lakeshore earlier this summer.
Michael Teranes of Grosse Point, Mich., and Scott Sherrod of Gobles, Mich., were recognized with the National Park Service Search and Rescue Award for saving the life of a 52-year old Traverse City man on August 18, 2008. Mr. Brown was swimming in Lake Superior near the shore at the Twelvemile Campground when he was caught in a rip current and pulled 300 yards from shore in a matter of minutes. Lake Superior's cold water battered him with four to
six foot waves and continued to pull him further
from shore.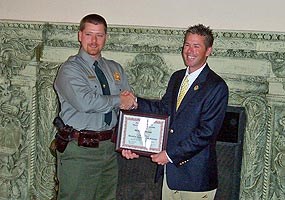 Michael Teranes was camping in Twelvemile Beach Campground and had seen Brown in the water but he was not in distress at that time. Minutes later he heard cries for help coming from Brown's wife. Teranes ran to the beach, grabbed a small flotation device, and entered the water. At this point, Brown was approximately 150 feet off shore and was struggling to keep his head above water; the current was still pulling Brown further away. Teranes was able to reach the subject very quickly as the rip current helped him to swim quickly away from shore. Returning to shore was much harder, according to witnesses; the rip current now had Brown and his rescuer 300 yards off shore. Teranes knew that to break free from the rip current he could not swim against it. He swam parallel with the shore until he broke the grip of the rip current and then diagonally towards the shore, pulling Brown with him. The waves continued to push Brown and Teranes under the water and pull them apart. Teranes fought the waves, keeping Brown at the surface, and getting him much closer to shore before Teranes felt he too was in imminent danger of drowning.
Scott Sherrod, also camping at Twelvemile Beach, learned of the incident when campground host Bill Cochrane asked for strong swimmers as he notified rangers and orchestrated the rescue efforts. Sherrod arrived at the beach as Teranes was leaving the water. Sherrod's family attempted to prepare an inflatable boat to facilitate the rescue but Sherrod felt there was not enough time to wait for the boat. Sherrod entered the water and was able to bring Brown the rest of the way to shore where other campers had gathered to assist.
Brown was transported to Helen Newberry Joy Hospital by Burt Township Ambulance Corps and was later transferred to Marquette General Hospital. Brown was able to return to the campground several days later and expressed his gratitude for his rescuers and everybody involved in his care.
Michael Teranes and Scott Sherrod placed their own lives in jeopardy to save the life of a man they did not know. Their actions prevented the tragic loss of a life, a father, and a husband.
"There is no doubt that without the heroic actions of Michael Teranes and Scott Sherrod a life would have been lost," stated Chief Ranger Tim Colyer. "Twelvemile Beach is a very remote area and the rangers responding, while already on the way, could not have made it to the scene in time to save Brown. I would like to thank Michael Teranes and Scott Sherrod on behalf of the National Park Service and Pictured Rocks National Lakeshore."
"Pictured Rocks National Lakeshore and Lake Superior are some of our nation's most beautiful natural resources," remarked Jim Northup, superintendent of Pictured Rocks National Lakeshore. "However, this incident serves as a reminder of just how dangerous Lake Superior can be. We would ask that each of our visitors make safety their number one priority. Safety messages regarding rip currents and other hazards are posted on our bulletin boards, at our visitor centers, and on our website at
www.nps.gov/piro
."
The National Park Service Search and Rescue Award is an award issued locally by Pictured Rocks National Lakeshore and the Midwest Region. Teranes and Sherrod are being nominated for the Citizens Bravery Award through the Department of the Interior.
Last updated: April 10, 2015