Date:
November 17, 2008
Contact:
Tim Colyer
, 906-387-2607, ext. 203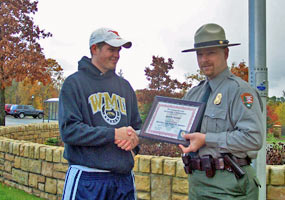 (Munising, Mich.) Two men from downstate Michigan were recognized for their selfless and heroic actions related to a near drowning incident at Pictured Rocks National Lakeshore earlier this summer.
Michael Teranes of Grosse Point, Mich., and Scott Sherrod of Gobles, Mich., were recognized with the National Park Service Search and Rescue Award for saving the life of a 52-year old Traverse City man on August 18, 2008. Mr. Brown was swimming in Lake Superior near the shore at the Twelvemile Campground when he was caught in a rip current and pulled 300 yards from shore in a matter of minutes. Lake Superior's cold water battered him with four to
six foot waves and continued to pull him further
from shore.