Date:
July 31, 2009
Contact:
Catherine Kimar
, 906-387-2607, ext 206
Contact:
Gregg Bruff
, 906-387-2607, ext. 208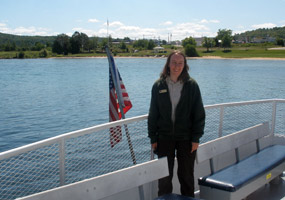 MUNISING, MICH.  Pictured Rocks National Lakeshore, in cooperation with Pictured Rocks Cruises, welcomes Catherine Kimar aboard the cruise boats this season as a Transportation Interpreter. This position, funded by the National Park Foundation (NPF), allows Kimar, who lives in the local area, to share some of the history and information concerning the lakeshore and alternative transportation with many visitors.
Kimar gives a talk on the cruise boats Wednesday through Sunday, during the scheduled afternoon trips at 2 p.m. and 5 p.m. This program will continue through August 20. Subjects covered during the talks vary from the geological past of the park to the history of logging activities in the area.
Pictured Rocks is not the only site benefiting from this program. There are nine other national parks, monuments, and lakeshores with Transportation Interpreters, located throughout the country this summer. These interpreters are present at park sites that offer visitors unique ways to experience their national lands – varying from buses to trains, and from bicycles to boats. Part of their message is that seeking out alternative forms of transportation not only gives visitors a new way to see the park, but can also play an important role in lessening the impact people can have on these protected lands.
The National Park Foundation works with the National Park Service to aid in both improving upon present services and create and fund new programs that promote the protection and preservation of our national lands. Transportation continues to be a challenge facing our national park system, and Transportation Interpreters help visitors understand the importance of minimizing impact on protected areas. This encouragement can not only help raise awareness of the problem and protect our parks, but also holds the potential to help visitors to encourage them in using alternative transportation in their daily lives.
Established in 1967 by Congress, the National Park Foundation (
www.nationalparks.org
) helps to further the conservation of natural, historic, educational, inspirational, and recreational resources for future generations of Americans. It is a charitable and nonprofit corporation that is run through philanthropy, with the goal of connecting the citizens of our nation with their natural resources.