Date:
January 31, 2012
Contact:
Chris Case
, 906-387-2607, ext. 209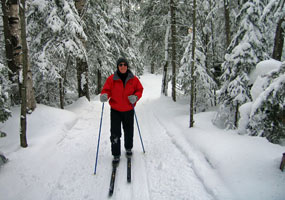 MUNISING, Mich. Pictured Rocks National Lakeshore Chief of Facility Management Chris Case is encouraging folks to come out and enjoy the cross-country ski trails maintained by the National Park Service in Munising and Grand Marais. 

"It has been a long time coming this year, but we finally have enough snow to establish a decent base and maintain formal grooming operations," Case said. 

"Our trails are groomed for 'classic' diagonal stride skiing," Case said. The Munising Ski Trails include 11.7 miles of trails. The Grand Marais Trails include 10.4 miles of trails. Both areas offer a variety of terrain for beginners as well as more experienced skiers. 

"The park trails offer a wonderful opportunity for uncrowded classic skiing in the beautiful north woods. Many of the trails within the Munising system offer spectacular views of Lake Superior, which is quite unique," Case added.  

"We have been working hard to make some improvements in trail layout, grooming operations and trail marking," said Trail Crew Leader Ted Shepard. "We replaced a number of narrow bridges with wider ones, purchased some new grooming equipment, and are working to make sure all the trails are well marked."  

"I really appreciate all the hard work my staff does to repair, pack and groom these trails," Case said.  "This is a wonderful experience we provide for the visiting public as well as local folks, and we appreciate the donations people have made to support the system."  

The park ski trails are free, but a donation of $3 per day is encouraged. The donation can be provided at each ski trail heads, located just off H-58 by the NPS Maintenance Area, off City Limits Road in Munising, and across from the Grand Sable Visitor Center in Grand Marais.   


About the National Park Service. More than 20,000 National Park Service employees care for America's more than 395 national parks and work with communities across the nation to help preserve local history and create close-to-home recreational opportunities. Learn more at www.nps.gov.