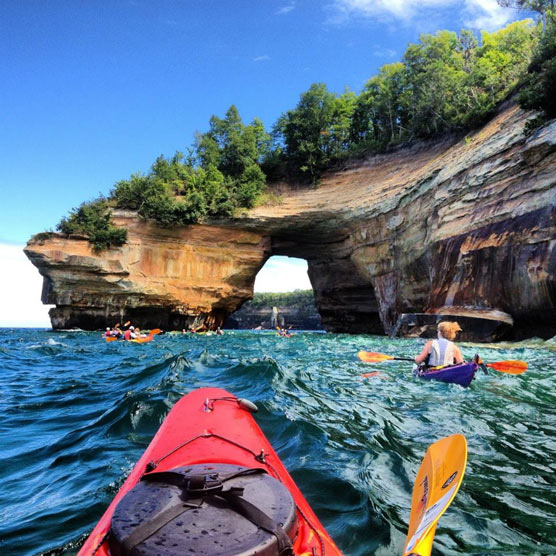 News Release Date:
May 8, 2014
Contact: Mike Pflaum, 906-387-2607, ext. 202
A stunning photograph of Pictured Rocks National Lakeshore is the 2013 Grand Prize winner in the
National Park Foundation's
Share the Experience
photo competition.  Courtney Kotewa of Essexville, Michigan, was named the grand prize winner with her photo of kayaking on Lake Superior along Pictured Rocks National Lakeshore in Michigan's Upper Peninsula.
This year's grand prize winner comes from a family outing. According to Courtney, it almost didn't happen as she was not sure she would take her phone with her on the kayak trip for fear of dropping it in choppy Lake Superior. Lucky for Courtney, she decided to risk it and bring the phone to document the trip.
Although she grew up in Michigan, this was Courtney's first trip to Pictured Rocks National Lakeshore, and she described it as being on her mom's "bucket list." Both Courtney and her mom are always up for adventure in the outdoors as Courtney describes it best, "Nature grounds you where you can get your perspective on life back. That's what it does for me."
"We are very pleased that Ms. Kotewa's outstanding photograph of Pictured Rocks National Lakeshore will be on the 2015 pass and congratulate her for her grand prize winning entry," said Lakeshore Superintendent Mike Pflaum.  "This latest recognition for the lakeshore will result in well-deserved greater national awareness of the stunning resources of the park."
The National Park Foundation, the official charity of America's national parks, ACTIVE Network, and Air Wick sponsor the
Share the Experience
 photo contest. Nearly 20,000 images were submitted in 2013, and the contest had more than 1.7 million photo views. As the grand prize winner, Courtney's photo will be featured on the 2015 America the Beautiful - The National Parks and Federal Recreational Lands Pass.  About 300,000 people purchase this pass each year.
The U.S. Department of the Interior hopes the competition will encourage all Americans to explore inspiring places.
"And don't forget to take your camera along," said Interior Secretary Sally Jewell. "The lens of a camera in the right hands at the right place can capture the majesty and magic of America's national parks, national wildlife refuges and other treasured landscapes like the beautiful lakeshore in Michigan where Courtney took her winning photograph," Jewell added.
In 2013,
second place
went to Michael DeWitt of Ashland, Wisconsin, for his photo of the sunset through an ice-covered porthole during a winter canoe trip in
Apostle Islands National Lakeshore
, also on Lake Superior.
Third place
went to Darrell Staggs of Mooresville, Indiana, for his illusionary photo that appears to show a hiker walking along the edge of a cliff in
Glen Canyon National Recreation Area.
The 
Share the Experience
photo contest is a chance for amateur photographers to submit inspiring images of America's federal lands, national parks, forests, waterways and historical sites to win cash prizes, outdoor equipment, annual federal recreation passes and hotel packages courtesy of Historic Hotels of America. The grand prize for the winning image is $10,000, followed by $5,000 and $3,000 for second and third place, in addition to outdoor gear and an annual pass. There are also prizes for fan favorites and one each in six categories.
With the announcement of the 2013 Grand Prize, the 2014 competition was launched, and all federal land visitors are encouraged to enter. For more information about the 2014 competition, please visit
www.sharetheexperience.org