Date:
April 14, 2010
Contact:
Gregg Bruff
, 906-387-2607, ext 208
Contact:
Janel Crooks
, 906-387-2512
Contact:
Sara Hollerich
, 906-586-9851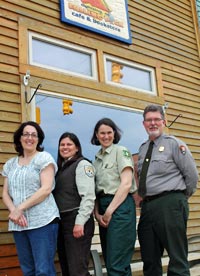 (Munising, MICH.) All around the nation and world, science cafés are springing up to engage everyday citizens and working scientists in conversations about the value of scientific inquiry. These special cafes are held at casual meeting places, in plain language, and include conversations that welcome people with no particular scientific background to the discussion.
The first Munising Science Café will be held on April 22 at 7 p.m. in celebration of the 40th Anniversary of Earth Day. It will be held at the Falling Rock Café and Bookstore, located at 104 East Munising Avenue in Munising.
The evening is hosted by Pictured Rocks National Lakeshore, Seney National Wildlife Refuge, and the Hiawatha National Forest. The first program welcomes Dave Maerklein, a Hiawatha Forest Service forester/planner, who will share his experiences in Congo Forestry. The Superior Corners 4-H group is also a co-sponsor of Mr. Maerklein's talk.
Each meeting to be held monthly at the Falling Rock is organized around an interesting topic of conversation. A scientist gives a brief presentation and sometimes shows a short video clip to kick off the discussion.
"People can leave a café meeting when they want, but you'll miss out if you show up late," explained Gregg Bruff, Pictured Rocks National Lakeshore Chief of Heritage Education. Topics will range across all sciences, and some cafés even explore connections between science and other disciplines, like the arts.
Science cafés emphasize audience participation in the discussion of a topic. Anyone who values the give and take of conversation will enjoy attending a science café.
Science cafés are spreading as a grassroots movement. For more information on Science Cafés, see
www.sciencecafe.org
, produced by NOVA Science NOW (
www.pbs.org/wgbh/nova/sciencenow
) and Sigma Xi, The Scientific Research Society (
www.sigmaxi.org
).
For more information about the local cafes, please contact Gregg Bruff at 906.387.2607 x208; Janel Crooks, Hiawatha National Forest, at 906.387.2512; or Sara Hollerich, Seney National Wildlife Refuge, at 906.586.9851.