Date:
November 28, 2007
Contact:
John Kacich
, 906-387-2607, ext. 210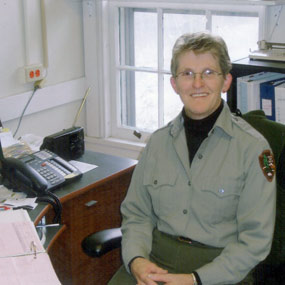 Pictured Rocks National Lakeshore Purchasing Agent Sandra Girard retired on November 30, after over 20 years of continuous service to the park.
Sandy began her career at Pictured Rocks National Lakeshore on March 2, 1987, as an administrative clerk. In 1992, she became the park's purchasing agent, with responsibility for purchasing most of the park's supplies and services. As the park's Level IB contracting officer, Sandy has had the authority to purchase supplies and services up to $100,000 and has played an important role in the overall operation of the park.
During her career, a significant portion of Sandy's work has involved restoration efforts at the lakeshore's historic Au Sable Light Station. Since 2001, she has issued contracts to install roof coatings on the historic lighthouse keeper's residence, remove lead paint in the historic structures, replace historic interior woodwork, repair stairways within the light tower structure and keeper's residence, remove old plumbing systems and replace them with new systems, install a septic system for the light station, and install a new heating system along with the installation of a fire suppression system.
Sandy also performed an instrumental role in the lakeshore's environmental leadership program. In 2002, Sandy was part of a group of park employees who were honored with the White House "Closing the Circle" award for a decade of environmental leadership at Pictured Rocks National Lakeshore.
Beginning in November 2005, Sandy served for two months on a team assisting the Gulf Coast with the recovery from Hurricane Katrina. There, she put her skills to use as a quality control supervisor with responsibility for leading teams of tree removers. For her efforts, she was awarded the Commander's Award for Civilian Service from the U.S. Army Corps of Engineers.
The park will miss her cooperative, "can do" attitude, her often cheerful personality, and the great skill she brought to her work at Pictured Rocks. Sandy intends to use her retirement to spend more quality time with her children and grandchildren as well as to put some miles on her motorcycle.