Sand Point Named Top Summer Beach by The Weather Channel
Date:
June 18, 2007
Contact:
Jim Northup
, 906-387-2607, ext. 202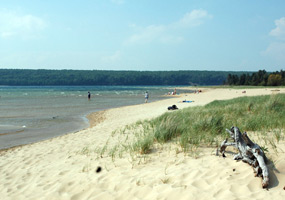 (Munising) The Weather Channel has named Sand Point Beach within Pictured Rocks National Lakeshore as one of the "Top Five Summer Beaches in America".
"We are honored that The Weather Channel would recognize one of the several beautiful beaches within the national lakeshore as one of the best in the nation," Pictured Rocks superintendent Jim Northup said. "It should really be no surprise – look at what we all have here. A clean, beautiful, safe, easily accessible yet undeveloped and uncrowded white sand beach on the clear waters of Lake Superior, with views of Munising Bay, Grand Island, the East Channel Lighthouse, and the unspoiled shoreline of the national lakeshore."
Northup said he received a phone call last week from a producer with The Weather Channel who explained that they ask Dr. Steve Leatherman - nationally known as "Dr. Beach" - to develop a list for them of the top summer beaches, to complement his better known list of the Top 10 Beaches in America.
"The Weather Channel will profile the top five summer beaches throughout the day on Thursday, June 21, to celebrate the beginning of summer," according to Northup. The producer told Northup that the other four beaches are Ocracoke Beach within Cape Hatteras National Seashore in North Carolina, and beaches in Maine, California and Oregon.
WLUC TV-6 provided footage for The Weather Channel to produce the profile on Sand Point Beach.
Last updated: April 10, 2015