Date:
December 7, 2010
Contact:
Chris Case
, 906-387-2607, ext. 209
Contact:
Robert Maxon
, 906-387-1447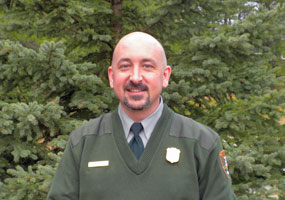 (Munising, Mich.) Pictured Rocks National Lakeshore is pleased to announce that Robert Maxon has joined the park staff as the Facility Management Software Systems Specialist.

As the Facility Management Software Systems Specialist, Robert will work with the maintenance division in managing the park's building and facility assets and linking Pictured Rocks with a nationwide database. 

This web-based system merges maintenance activities throughout the National Park Service into one database. The collective information provides consistent reporting of facility maintenance activities, and serves as the foundation for management decisions regarding park buildings and facilities. It also establishes a nationwide priority setting process for development and improvement projects in National Parks.  

In addition to maintaining the park's database, Robert will inventory and assess facilities, develop asset management plans and assist with project compliance and contract oversight.

"We are fortunate to have Robert join the lakeshore staff," remarked Facility Manager Chris Case.  "His experience in working with government facilities and his ability to manage a variety of datasets will serve the park well. "

With his wife Julie and their daughter Alyssa, Robert recently moved to the Munising area from Madison, Wisconsin, where he worked with the U.S. Department of Veterans Affairs.   Robert was born and attended school in Munising. His family then moved to Gladstone, where he graduated from high school. Robert later moved to Marquette where he attended Northern Michigan University, earned a degree in Public Administration, worked for the Department of Defense and met his wife, Julie.

"Having spent most of our lives on the shores of Lake Superior and spent many wonderful times enjoying the Pictured Rocks as visitors, we knew when the opportunity was presented that this was going to be a very positive move for our family," Robert  explained.  "We very much look forward to becoming involved with the community and calling Munising, home."