Date:
July 8, 2011
Contact:
Bruce Leutscher
, 906-387-2680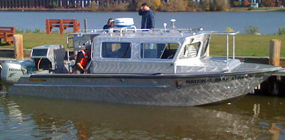 Area residents may have noticed a different boat at the Bayshore Marina lately. The Echo is a 28-foot work boat operated by the National Park Service Great Lakes Monitoring Network, based out of its home port of Ashland, Wisconsin. Underwater sonar data is being collected in Lake Superior and Munising Bay to model near-shore coastal dynamics around Sand Point. The work is funded through Great Lakes Restoration Initiative Coastal Restoration project.  

The Echo is equipped with a multi-beam sonar system that can collect high resolution bathymetry or underwater lake bottom data. The sonar can also provide sidescan images of underwater objects and information on the substrate, for example if it is sand or rock). The system also includes Global Positioning System receivers and an inertial measurement unit. The units collect positioning data and account for the motion of the vessel, improving sonar data accuracy. The sonar system is deployed through a well on the stern of the vessel. The boat surveys at 3-5 knots, and can work in depths of six to 1000 feet. 

A computer is mounted in the bow of the boat that stores the sonar data as it's collected. The boat is operated by two person crew; a sonar operator and a boat operator. Both crew members have computer monitors that they use to follow the track of the boat in real time while mapping. The boat operator watches the screen and the water to track boat movement. The sonar operator also uses the monitor to make adjustments to the sonar system as data is collected. They can map a track on the lakebed approximately 4 times the depth of the water, so if they are working in 10 meters of water, the sonar track is 40 meters wide. 

"We are excited to be a part of this effort and the data being collected by the Echo crew will greatly benefit the park," according to Bruce Leutscher, Chief of Science and Natural Resources at the national lakeshore. "Use of the resulting data to help analyze potential changes at Sand Point due to changing Lake Superior water levels and human activities will allow us to better manage and protect natural and cultural resources."  

Information collected from this effort will be used for site specific restoration projects and to provide detailed maps of the lakebed and aquatic habitat in Lake Superior waters of the park.

The Echo will be operating in park waters of Munising Bay between July 5 and 11. For more information, contact Bruce Leutscher at 906-387-2680.