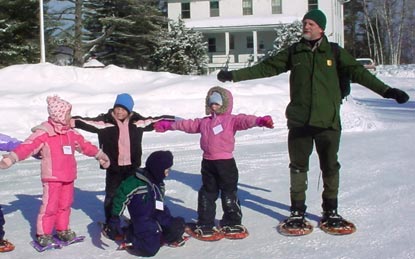 News Release Date:
December 31, 2012
Contact: Jim Northup, 906-387-2607, ext. 202
MUNISING, Mich. Pictured Rocks National Lakeshore Park Ranger Dave Kronk - known to almost everyone in the community as simply "Ranger Dave" - has retired from his work with the National Park Service after a career that spanned more than 31 years. Recognized nationally as an outstanding environmental educator, Kronk's work at Pictured Rocks dates back to the summer of 1977, when he first worked at Pictured Rocks as a seasonal park aide, making $3.96 an hour.
During the course of his federal career, Kronk worked at Pictured Rocks and Everglades National Park in Florida, and briefly for the U.S. Corp of Engineers in Ohio. Early in his career he also worked for the Michigan Department of Natural Resources, for the Greenwood Nature Center in Marquette, and as a public school teacher in Detroit and Fowlerville, Michigan. He has served as Pictured Rocks Outreach Education Ranger since May 1992.
"Dave was excellent at working with kids and always remained passionate about the importance of environmental education, getting kids outside to enjoy nature, and encouraging active stewardship of our precious natural and cultural resources," said Pictured Rocks Superintendent Jim Northup. "Several students that Dave worked with over the years have gone on to careers in the conservation field, including with the National Park Service. He has been a real fixture in the park."
"Dave was a specialist in developing curriculum based environmental education programs and worked primarily with the four major school systems in Alger County - Munising, Grand Marais, Superior Central and Au Train-Onota," said Pictured Rocks Chief of Heritage Education Gregg Bruff. He also ran the park's after school Junior Ranger program, a summer science camp, teacher workshops, facilitated visits from multi-cultural groups and other special programs, and presented a wide variety of programs to the public. He recently helped develop an environmental education program in Costa Rica."Dave has touched a lot of lives over the course of his career," Bruff added.
With both a Bachelor's and Master's Degree from Michigan State University, Kronk was often recognized for his work. He was the winner of the National Park Service's prestigious Freeman Tilden Award, was recognized by the National Association of Interpretation and received several performance awards over the course of his career.
The park staff joins in wishing Dave the very best in retirement.