Munising Range Lights Receive Facelift
Date:
December 23, 2008
Contact:
Gregg Bruff
, 906-387-2607, ext. 208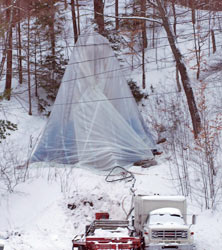 In December, the Munising rear range light was shrouded in a layer of protective plastic, seemingly cloaked in mystery. The fact of the matter is that both the front and rear range lights are receiving some tender loving care this winter, as the shipping season comes to a close. The metal towers are being sandblasted, undercoated, and painted to protect them from Munising's varied and often harsh environment.

Sandblasting and priming was recently undertaken by St. Germain Sandblasting from Negaunee. Workers will soon be making welding repair on areas where oxidation has eaten through the metal shell of the tower. As spring approaches, the final coat of white paint will be applied to both towers.

"Park facilities are on a periodic maintenance schedule for both interior and exterior maintenance work such as painting, roofing, and care of other systems," noted Chris Case, Facility Manager at Pictured Rocks National Lakeshore. "We began the process of requesting funding for necessary work on the Munising Station when the property was transferred to the National Park Service from the U.S. Coast Guard in 2005."

"The original paint scheme for the front tower in 1908 included a black lens room exterior and roof," stated Gregg Bruff, with the Lakeshore's Heritage Education program. "We are considering taking the paint scheme back to its historically accurate original black over white."

Erected in 1908 at a cost of $15,000, the range lights have provided safe passage for mariners approaching Munising from the Grand Island east channel. Though the buildings are now owned by the National Park Service, the aids to navigation continue to be operated by the U.S. Coast Guard.

The original source of light in the front tower was a kerosene Adlake locomotive light. The front tower is 58 feet high while the rear tower is only 33 feet high. The light focal planes, however, are 107 feet and 79 feet respectively off the water. When the two red beacons line up, a ship captain out on the lake has found the correct course into the harbor.

The range light station, adjacent to the front range light, now serves as offices for the Lakeshore's Science and Natural Resources Division. Three permanent and several seasonal employees work out of this office.

Pictured Rocks National Lakeshore cares for 19 historic buildings, which range from a turn of the century dairy barn in Grand Marais to the 1874 Au Sable Light Station. Preservation of historic structures is one of the National Park Service's many missions throughout the United States.


Last updated: April 10, 2015