Pukaskwa National Park staff visits PRNL
Date:
May 24, 2007
Contact:
Gregg Bruff
, 906-387-2607, ext. 208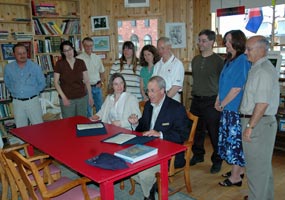 On May 9 and 10, seven members of the Pictured Rocks National Lakeshore management team met with six Parks Canada managers from Pukaskwa National Park, the Northern Ontario Field Unit and the St. Mary's Canal Historic Site. The day and a half meeting was to renew the "park twinning" relationship begun between the parks in 1995.
The initial twinning was the result of discussions at both parks focused on the
Binational Program to Protect and Restore Lake Superior
.
"The twinning activity is similar to a sister city like Marquette, Michigan, has with Kajaani, Finland. Both Pictured Rocks and Pukaskwa share Lake Superior and have many commonalities in their resources and management," commented Gregg Bruff, Chief of Heritage Education. "Many people tend to look at artificial boundaries of states, provinces and countries, but ecologically, watersheds are perhaps more important units in which to characterize flora, fauna, ecological function, cultural habitation and migration and the like," Gregg continued.
The group began their meetings with a tour of Miners Castle, Miners Beach, and Miners Falls where the spring wildflowers are at their peak. Several Pukaskwa staffers commented on the open nature of the beech maple forest and the incredible carpet of wildflowers. As fog played tag with long distance views of the cliffs, the group enjoyed the cool lake air and fragrance of spring green. At Miners Falls they enjoyed the spring freshet as the Miners River plunged noisily over the escarpment.
On day two, the group met at the Alger Heritage Center where they provided overviews of each park operation including staffing structure, funding, administration, science and research, visitor experiences, warden services and related public safety issues. The afternoon was then spent brainstorming ways the two parks could continue to enhance their twinning relationship. A list of over a dozen projects were noted, most of which simply deal with sharing information back and forth.
A few examples include the Lakeshore's award winning education and environmental leadership programs, an Anishnaabe summer encampment and elders teaching site, research on Pitcher's thistle - a federal and state listed species and black bear management.
Considerable discussion occurred around the theme of sharing information on climate change and the projected impacts to the Lake Superior ecosystem. A trip to Pukaskwa by Lakeshore management staff was also briefly discussed.
The meeting ended with a community reception at the Falling Rock Cafe and Bookstore where over a dozen citizens met with the group to ask questions and share experiences. Munising Mayor Rod DesJardins welcomed the group as did City Manager Doug Bovin. There was considerable interest by the group in obtaining more detailed information on Pukaskwa, particularly its 60 mile coastal hiking trail and the 80 mile shoreline that features world class sea kayaking.
Lakeshore Superintendent Jim Northup and Pukaskwa Park Manager Robin Heron signed two copies of a renewed twinning agreement before the group gathered, rekindling a relationship that spans over a decade.
Pukaskwa National Park includes over 750 square miles of virgin boreal and Great Lakean deciduous forest, wolves, marten, lynx, moose, and the southernmost population of Woodland Caribou. The park was established in 1971 from Crown Lands and is the largest protected area on Lake Superior featuring the longest stretch of undeveloped shoreline on Lake Superior.
For additional information, contact Gregg Bruff at 906-387-2607, ext. 208
Last updated: April 10, 2015