Great Lakes Poetry Art Installation at Pictured Rocks NL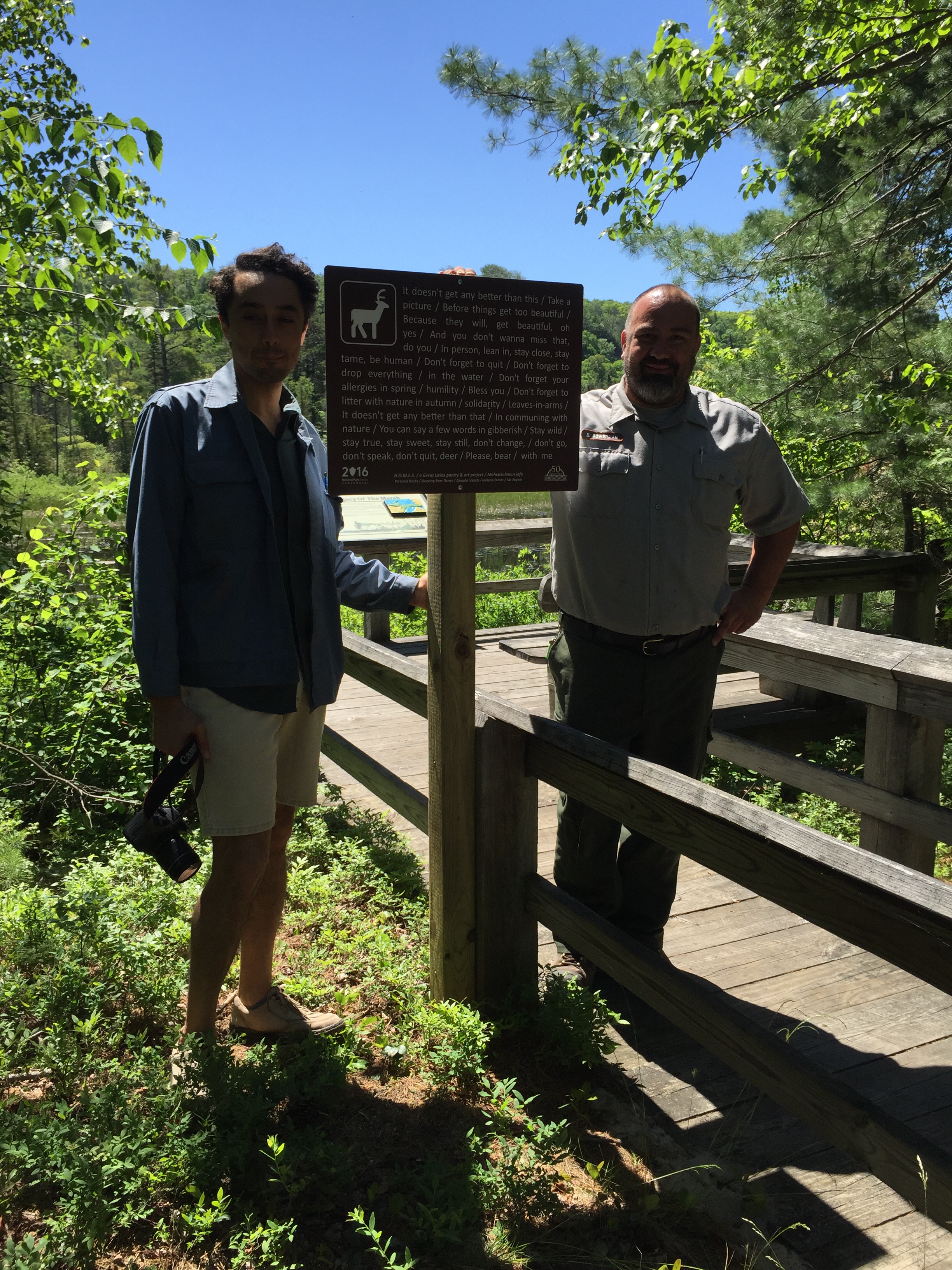 News Release Date:
June 21, 2016
Contact: Susan Reece, 906-387-2607
Munising, MI - This summer, nature poems masquerading as official park signs can be found throughout Pictured Rocks, Apostle Islands, and Indiana Dunes National Lakeshores, as well as Isle Royale National Park at trails, vistas, and beaches as part of the National Park Service centennial celebration.This site-specific public art installation has poetry and the Great Lakes at its core. Classic brown and white metal park signs complete with official symbols will pose poetic insights about Great Lakes nature, culture, modernity, and identity, in contrast to their normal didactic and regulatory information. Sign texts were written by poet Moheb Soliman and designed in collaboration with park staff. They also collaborated on each particular location, as the signs speak to special types of places and natural-cultural spaces and experiences such as beaches, or hiking, or technology in relation. Park visitors can encounter the signs as they tour major destination spots, or can ask about locations at park visitor centers.
Nature poetry has a rich heritage in the United States and is always being redefined for contemporary audiences and contexts. The National Park Service also has long partnered with many artists through residencies, exhibitions, and public programs to take the subjects of nature, culture, and self and portray and investigate them together in personal, captivating ways for the public. The centennial anniversary of our national parks is an especially fitting moment to expand both of these traditions. The concept behind this project draws inspiration from poetry as a powerful and flexible art form, but also from installation and performance art, which offers unexpected aesthetic and creative experiences and encounters in the everyday world. Park visitors expect signs from the administration to be straight-forward, scientific, ecological, and/or historical. Putting poetic content in place of that is a surprising and engaging reversal of their assumptions about what it means to engage with nature in parks with others, how officialdom and administrators could "see and feel" nature with us, and how contemporary poetry and art continue to experiment with addressing the natural world in our time.
This project comes out of Moheb Soliman's larger on-going interdisciplinary project "HOMES," acronym for the Great Lakes that serves as an evocative descriptor for these border waters and lands as homes to millions. Most recently through a 2015 Joyce Foundation fellowship, Moheb traced the entire Great Lakes coastline by land, creating new work and partnerships with arts, environmental, native, and other organizations with a stake in the region. Other Great Lakes work includes a 2013 Pillsbury House grant for the show "A Great Lakes Vista;" a 2014 Northern Spark art festival commission for a participatory installation using an overhead projector and a camping tent;and a 2015 Red Eye Collaboration performance piece with Google Maps; Though HOMES is an environmentalist project, it also reaches for something less utilitarian in its vision of people and place—beyond resource management and towards a sense of nature as a radical "other" with which we have a relationship that can expand our capacity for difference, human and non-human. Personally, Moheb's interest in the Great Lakes comes from growing up around the region with the mythic immigrant trials of assimilation and making home;from reckoning with native, settler, and other narratives of belonging there;and from a desire to identify not only with a nation-state or ethnicity, but a land and waters, and to conceive of how others do so, daily, commonly.
Soliman is an accomplished poet and artist from Egypt and the Midwest with 15+ years of experience presenting work in US and Canadian cities in diverse contexts. His poetry practice has led to text-based performance and installation work, commissions for public poetry projects and festivals, residency awards at such institutions as the Banff Centre and Vermont Studio Center, and more. Recent fellowships from the Joyce Foundation and Pillsbury House spurred his interdisciplinary project HOMES, about nature, culture, modernity, belonging, and identity around the populous, wild Great Lakes region, which he seeks to make home among other people and creatures. His previous project, Habib Albi is...Not a Man, about romance, gender, and Arab American identity in the Midwest in light of 9/11, played in established venues in New York, Toronto, and Montreal, where in September, 2011 it was commissioned as the season-opener at the MAI in 10-year critical commemoration of 9/11. Moheb Soliman can be contacted at 315-746-0093 or mohebsolimanmohebsoliman@gmail.com
Last updated: September 20, 2016