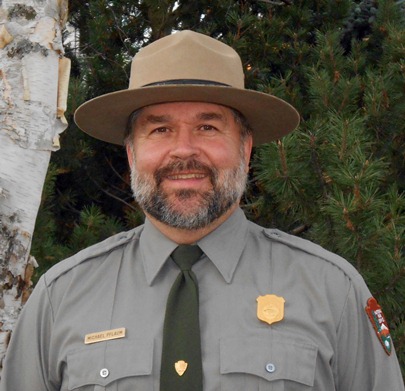 News Release Date:
November 14, 2013
Contact: Patty Rooney, 402-661-1532
OMAHA, Neb. – Michael D. (Mike) Pflaum, currently Superintendent at Keweenaw National Historical Park in Calumet, Mich., has been named the new Superintendent of Pictured Rocks National Lakeshore in Munising, Mich. He succeeds Jim Northup, who earlier this year was named Superintendent at Shenandoah National Park in Virginia, and reports for this new assignment on January 26, 2014.
"Both a high degree of leadership and significant accomplishments in partnership and community engagement with rural communities are factors that led to our selecting Mike to lead Pictured Rocks National Lakeshore," said Michael T. Reynolds, director of the National Park Service 13-state Midwest Region. "Mike's extensive background and experience in park operations, law enforcement, and resources management -- specifically wilderness and lake management during his time at Yellowstone National Park -- will serve him well in this new leadership role."
Pflaum began his NPS career as a seasonal Park Technician and Park Ranger in both Yellowstone National Park and Devil's Tower National Monument in Wyoming, achieving permanent status as a Telecommunications Operator at Yellowstone NP in 1984. He was promoted to Supervisory Park Ranger at the park in 1985, and became Chief Ranger at Mount Rushmore National Memorial, S.D., in 1989. While at Mount Rushmore, he served as Acting Superintendent for long periods of time, and had other assignments as Acting Superintendent at George Washington Carver NM in Missouri and Navajo NM in Arizona. Pflaum transferred to the Midwest Regional Office in Omaha in 2008 as the Regional Partnerships Coordinator, and took his first Superintendent position at Keweenaw NHP in January 2011.
At Keweenaw NHP, Pflaum worked closely with park staff in opening the Calumet Visitor Center, the park's first such facility in a beautifully restored historic building. He also continued the great work of his predecessors in collaborating closely with the Keweenaw NHP Advisory Commission, Keweenaw Heritage Sites, and other park partners in accomplishing the mission of resource preservation, interpretation and education, and service to visitors in this complex partnership park. "Keweenaw NHP has been a wonderful place for me to work with outstanding and dedicated people for the last several years," Pflaum said.
A Dodge Center, Minn., native, Pflaum graduated magna cum laude from Mankato State University, earning a Bachelor of Science degree in Recreation and Park Administration. Pflaum's immediate family includes his wife, Barbara, a Miller, S.D., native and former NPS Park Ranger and park cooperating association employee, and two daughters, Katie, a recent graduate of St. Olaf College currently living and working in Hancock, Mich., following a summer working for the park concessioner at Isle Royale National Park, and Emily, also a St. Olaf College graduate and now a high school music educator in Minneapolis, Minn. In addition to their work in the parks, Pflaum and his wife enjoy hiking, cross country skiing, photography, and exploring the great parks, historic sites, and wildlands of the nation.
"Pictured Rocks National Lakeshore is a magnificent national park area," Pflaum stated. "Barbara and I have visited several times and we are excited about the opportunity to know and explore this great place more fully. I am also looking forward to getting to know and working with the great staff at the park, as well as the park partners and people of the nearby communities. We will be most successful if we are all working together in a positive fashion with a vision for the future in the preservation of this special place and in providing outstanding opportunities for park visitors, and I intend to do everything I can to help make that happen."
Pflaum has received numerous performance and achievement awards for accomplishments throughout his career, including the Department of the Interior Secretary's Partners in Conservation Award for 2009 and the Midwest Region's Harry Yount Award for Ranger Excellence in 2007.
Pictured Rocks National Lakeshore was authorized in 1966. The over 73,000-acre park has 40 miles of Lake Superior shoreline with multicolored sandstone cliffs, towering sand dunes, hardwood and coniferous forests, wetland, inland lakes and waterfalls, and a variety of wildlife. Hiking trails run the length of the park, connecting over a dozen backcountry hike-in campsites. Three vehicle-accessible campgrounds are also available as well as winter activities including cross-country skiing and snowshoeing. Park gateways are Munising on the west and Grand Marais on the east.

About the National Park Service. More than 20,000 National Park Service employees care for America's 401 national parks and work with communities across the nation to help preserve local history and create close-to-home recreational opportunities. Learn more at www.nps.gov.