Date:
August 16, 2012
Contact:
Bret Muter, Parks in Focus
, 989-284-0976
Contact:
Gregg Bruff
, 906-387-2607, ext. 208
Contact:
Mary Jo Cook, Alger Heritage Center, 906-387-4308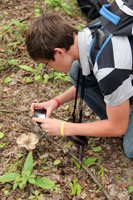 The Udall Foundation's Stewart L. Udall Parks in Focus program is currently exhibiting photographs of Pictured Rocks National Lakeshore and other scenic public lands throughout Michigan, taken by 30 of its youth participants (ages 11 to 17), at the Alger County Heritage Center. 

Parks in Focus aims to connect youth from underserved communities to nature through photography and positive outdoor experiences. Arizona is home to the flagship program and the Udall Foundation; however, programming is implemented in additional states when funding is available. In Michigan, Parks in Focus has been working with Big Brothers Big Sisters organizations in Mecosta, Osceola and Newaygo Counties since 2007 and with the Boys and Girls Clubs of Greater Flint since 2011. To date, the program has put digital cameras in the hands of more than 100 Michigan youth and guided them on adventures through Pictured Rocks National Lakeshore, Sleeping Bear Dunes National Lakeshore, Isle Royale National Park, Seney National Wildlife Refuge and other scenic sites throughout the state. The photographs on display portray the people, places, plants and animals that the 2011 and 2012 program participants have met along the way. 

On Sunday, August 26, at 3 p.m., the Heritage Center and Parks in Focus will be hosting a special public photo presentation. The event will provide an opportunity to learn more about the program and meet some of the young photographers from Mecosta, Osceola and Newaygo Counties as they present some of their best photographs from their recent adventures at Pictured Rocks National Lakeshore. This exhibit was made possible by the Udall Foundation, Pictured Rocks National Lakeshore, the Alger County Heritage Center, Outdoor Nation and Merrell. 

The photographs will be on display through September 8, 2012. The Heritage Center is open Tuesdays through Saturdays from 11 a.m. to 3 p.m. For more information call 906.387.4308. 

For additional information about Parks in Focus, visit http://pif.udall.gov or contact program manager Bret Muter at 989.284.0976.