Date:
April 9, 2008
Contact:
Dave Kronk
, 906-387-2607, ext. 206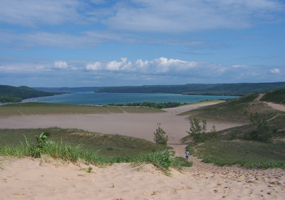 April 19-27, 2008

To celebrate National Park Week, please join National Park Service Ranger David Kronk for an hour long slide presentation on all four Michigan National Park areas – Pictured Rocks National Lakeshore, Sleeping Bear Dunes National Lakeshore, Isle Royale National Park and Keweenaw National Historical Park. The program is sponsored by the Central Upper Peninsula Sierra Club and is open to other interested citizens as well. It will be held on
Wednesday, April 16,
7 p.m., at the Community Center Room of the Peter White Library in Marquette, Michigan.
National Park Week is an annual Presidential proclamation to celebrate and recognize your National Parks. The theme of this year's National Park Week is "Kids in Parks." All around the nation this year, National Park areas are doing more to get "kids in parks" so they can appreciate and better understand how to be good stewards of these wonderful natural and cultural resources.
On
Saturday, April 26,
from 10 a.m. to 11 a.m. at Pictured Rocks National Lakeshore, Ranger Kronk will lead a hike for children and their parents along the boardwalk at Sand Point near the park headquarters in Munising. Information will be available about the many different educational opportunities for children in our national parks including junior ranger programs, web ranger programs, distance learning broadcasts from many parks and educational materials.
National Parks are living examples of the best this nation has to offer – our magnificent natural landscapes and our varied yet interrelated heritage. Parks can provide recreational experiences, opportunities to learn and grow, and places of quiet refuge.
America's 392 national park sites encompass 84 million acres of our country's most important forests, prairies, glaciers, mountains, seashores and lakeshores. The spectacular scenery, wildlife and cultural resources help to enrich the lives of all Americans. Parks are living laboratories where biologists and historians conduct research to help maintain our country's grandeur and ideals of democracy.
During National Park Week this year, take a moment, an hour, or a day to visit or learn more about your National Parks!