Date:
March 29, 2007
Contact:
Dave Kronk
, 906-387-2607, ext. 206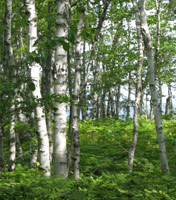 Celebrate National Park Week
Join Pictured Rocks National Park Ranger David Kronk for an hour long slide presentation on the history of the National Park Service. Also covered will be a look at some treasures found within the National Park System as well as things to see and do in Pictured Rocks National Lakeshore.
The first program will be held on
Wednesday, April 18
, at 7 p.m. at the Alger County Heritage Center at 1496 Washington Street in Munising. Another program will be held on
Monday, April 23
, 7 p.m., at the Burt Township Community Center on Brazel Street in Grand Marais.
National Park Week is an annual Presidential proclamation to celebrate and recognize your National Parks. The theme of this year's National Park Week is, "Your National Parks - Explore, Learn and Protect."
Your National Parks are living examples of the best this nation has to offer - our magnificent natural landscapes and our varied yet interrelated heritage. Parks can provide recreational experiences, opportunities to learn and grow, and places of quiet refuge.
America's 390 national park sites conserve spectacular scenery and cultural resources helping to enrich the lives of all Americans. The parks are living laboratories where biologists and historians conduct research to help maintain our country's grandeur and ideals of democracy.
During National Park Week this year, take a moment, an hour, or a day, to visit or learn more about our National Parks!