Date:
January 3, 2007
Contact:
Gregg Bruff
, 906-387-2607, ext. 208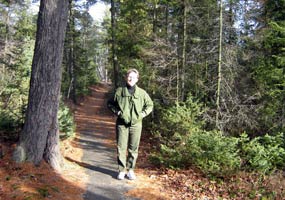 (Munising and Grand Marais, Michigan) The lack of early season snow and unseasonably warm temperatures are creating unique opportunities for visitors to Pictured Rocks National Lakeshore in the central Upper Peninsula according to Gregg Bruff, the park's Chief of Interpretation and Visitor Services.
"For the first time in many years, Alger County Road H-58 currently remains passable from one end of the lakeshore to the other," Bruff said, and people are coming out to enjoy the park at this very special time of the year.
"This is a wonderful time of year to hike in the park. With the leaves off the trees, you can get a much better feel for the character of the land, and enjoy vistas that you could not see in the summer months," Bruff said. "The waterfalls are pretty special too," he added.
It also is a wonderful time to walk out to the Au Sable Light Station (accessible from the Hurricane River Campground), or to simply walk along a beach.
"While all of our water systems are shut down for the winter, our drive-in campgrounds remain open for campers, and there is no charge for their use in the winter months," Bruff added. "A number of people have also been taking advantage of the situation for overnight backcountry trips," Bruff said. "We don't know how long this might last, so we encourage people to come enjoy the park under these unusual circumstances."
"It will certainly start to snow soon, and the traditional winter activities of snowshoeing, cross country skiing and snowmobiling will return to the area," Bruff said. In the meantime, Bruff encourages visitors to come visit at this very special time of year.
Visitors are encouraged to check with the Interagency Visitor Center in Munising for current road and trail conditions. Permits required for overnight backcountry camping are also available at this location.
For more information, visit
www.nps.gov/piro
or contact the Interagency Visitor Center at 400 East Munising Avenue in Munising, 906-387-3700.