Date:
January 31, 2013
Contact:
Jim Northup
, 906-387-2607, ext. 202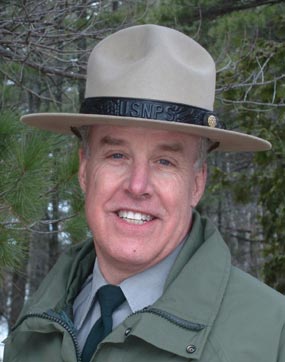 MUNISING, Mich.  The National Park Service has announced that Jim Northup, who has served as superintendent at Pictured Rock National Lakeshore since May 2005, has been selected to serve as the new superintendent of Shenandoah National Park in Virginia. In this capacity, Northup will also oversee operation of nearby Cedar Creek and Belle Grove National Historical Park. He will begin his new position in March. 

During his tenure at Pictured Rocks, Northup has focused on improving community relations, obtaining Congressional designation of the Beaver Basin Wilderness, and working with Alger County on the design and reconstruction of County Road H-58. During his tenure, Northup started the park's Community Partner Program, the Adopt-a-Trail/Adopt-a-Campsite Program, the Discover Your Lakeshore Program, and several initiatives with the park's gateway communities of Munising and Grand Marais. Northup also played a key role in the establishment of the National Parks of Lake Superior Foundation, the non-profit fundraising partner of the five NPS units on Lake Superior. 

Other achievements have included completing other actions called for in the park's 2004 General Management Plan, working with Pictured Rocks Cruises to establish a formal concession contract for that important visitor service, expanding the park's public interpretive programs, and improving working conditions for employees.  

"It has been my great privilege to serve as the superintendent of Pictured Rocks," Northup said. "This is a very special place. My wife and I have loved it here, and it will be very hard to leave, but this is an outstanding professional opportunity. My thanks to the park staff and all of our partners who have made this such a wonderful experience. I will encourage my successor to continue to work very closely with the community, and I hope the community will continue to fully embrace and support the park as an important part of the environmental, social and economic fabric of this wonderful area," Northup's wife Phyllis has also been very active in the community, as an artist and art teacher, and in encouraging others to get out and enjoy the park. 

Shenandoah National Park encompasses over 197,000 acres of Virginia's beautiful Blue Ridge Mountains, including the famous 105 mile Skyline Drive, over 500 miles of trails, 101 miles of the Appalachian Trail, several concession operated lodges and restaurants, and 79,579 acres of federally designated wilderness. Cedar Creek and Belle Grove National Historical Park commemorates a nationally significant Civil War landscape and antebellum plantation in the Shenandoah Valley, and is managed in partnership with several other organizations. As superintendent, Northup will lead a staff of over 200 employees and manage a base budget of over $13 million at the two parks. 

A successor at Pictured Rocks is expected to be named in the coming months.