Date:
June 22, 2006
Contact:
Gregg Bruff
, 906-387-2607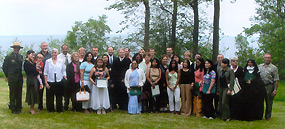 On Wednesday, June 21, 44 former immigrants became United States citizens at Pictured Rocks National Lakeshore.
Some 150 people witnessed the outdoor event at Miners Castle. Magistrate Judge Timothy Greeley from Marquette, Michigan, led the group in the oath of allegiance.  Lakeshore Superintendent Jim Northup was the featured speaker.
State, county, and city dignitaries attended as well as local aides of Congressional representatives. Following the half-hour ceremony, a picnic lunch was provided by the Munising A&W Family Restaurant. The new citizens were also able to register as voters with the Michigan Department of State.
The event was sponsored by the lakeshore and the Detroit Office of Immigration and Citizenship Services. Pictured Rocks National Lakeshore organized the event through the incident command system and involved local and state law enforcement agencies and emergency medical services personnel.