Date:
December 9, 2011
Contact:
Chris Case
, 906-387-2607, ext. 209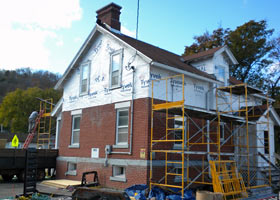 MUNISING, Mich.  You may have noticed work going on in recent weeks on the old range light building in downtown Munising. Pictured Rocks National Lakeshore Chief of Facility Management Chris Case said, "Many people are not aware that this building, as well as the front and rear range light towers, is owned by the National Park Service, as part of the national lakeshore. We are pleased to announce that the old keepers quarters are getting a face lift." 

The work began in November with the removal of the old roof and siding. "Our goal is to restore the exterior appearance to its 1908 appearance, using appropriate materials," according to Case. "The new roof should be complete before the snow flies. The rest of the work will be completed in the spring, so the historic building will look a little forlorn over the winter, but be patient. It should look terrific when it is done." 

The Munising Range Lights as well as the keepers quarters came into National Park Service ownership in 2002, after it was decommissioned by the U.S. Coast Guard. The Coast Guard still operates the actual light in the tower, but the National Park Service is responsible for all the structures. The building is used for offices and lab space for the park's Science and Natural Resources professional staff. 

"The Munising Range Lights are an important part of Munising's maritime history, and the National Park Service is proud to be associated with them," added Gregg Bruff, the park's Chief of Heritage Education. "When this project is complete, the building will look much better and be a wonderful addition to the other interesting and beautiful historic structures in downtown Munising."