Date:
August 9, 2007
Contact:
Jim Northup
, 906-387-2607, ext. 202
Contact:
Chris Case
, 906-387-2607, ext. 209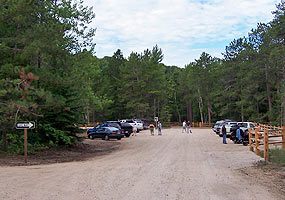 Pictured Rocks National Lakeshore is pleased to announce the completion of the Parking Lot Expansion and Erosion Control Project at Miners Beach. A brief dedication and celebration of this facility improvement will be held at 11 a.m. on Thursday, August 16, at the new parking lot.
"In our new General Management Plan approved in 2004, we promised the public that, subject to available funds, we would improve access to, and the facilities at the east and west end of the park, while preserving the core portion of the national lakeshore under a 'primitive' management prescription that provided outstanding opportunities for unconfined recreation and solitude," Lakeshore Superintendent Jim Northup said. "Completion of this project represents one part of keeping that promise, and I am proud of our park staff for the quality of the work they have done at Miners Beach."
"This project involved expanding the parking lot, providing a designated canoe and kayak loading and unloading area, and blocking off and rehabilitating some of the social trails and shortcuts that were leading to serious erosion problems along the dune face," explained Chief of Facility Management Chris Case. "Miners Beach is obviously one of the most popular destinations in the park, particularly with kayakers," Case added, "and we think that this design will not only improve access and visitor flow in this area, but also allow us to better protect the sensitive dune face from unacceptable resource impacts."
"Joseph S. Lakosky Excavating performed the initial site preparation work. The actual construction was performed with park 'in-house' staff over the course of two summer seasons as time became available and with assistance by both summers Youth Conservation Corps crews." Case concluded that using a local contractor and available in-house resources kept the cost of the project under $50,000.