Date:
March 11, 2009
Contact:
Jim Northup
, 906-387-2607, ext. 202
Contact:
Meg Hahr
, 906-387-4818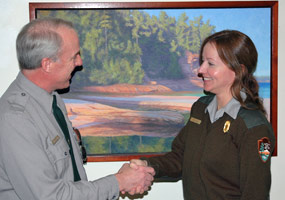 (MUNISING, Mich.) Pictured Rocks National Lakeshore has a new Chief for their Division of Science and Natural Resources. Margaret "Meg" Hahr has transferred from Alaska, where she most recently served as an Ecologist at Kenai Fjords National Park.
"We are delighted to have Meg joining our park management team" said lakeshore superintendent Jim Northup. "She brings a strong combination of leadership, interpersonal and technical skills which will strengthen our team. Her strong background in wildlife will also be a wonderful compliment to the skills held by our other permanent science and natural resources staff, Forest Ecologist Bruce Leutscher and Aquatic Ecologist Lora Loope." Meg replaces Jerry Belant, who left the National Park Service this past summer to accept a teaching position at Mississippi State University.
The Division of Science and Natural Resources is responsible for managing a wide variety of research projects, inventory and monitor initiatives and conducting field work in the park involving wildlife, fisheries, vegetation, water quality and more. The Division also works very closely with other federal, state and local natural resource agencies and organizations.
Prior to working at Kenai Fjords, Meg served as a natural resources program manager at Klondike Gold Rush National Historical Park, also in Alaska, and as a wildlife technician at Glacier National Park in Montana. She has also conducted wildlife surveys for the Bureau of Land Management and served for two years as an Agroforestry Specialist with the U.S. Peace Corps in West Africa.
Meg holds an M.S. degree from the University of Montana in Environmental Studies with an emphasis on wildlife ecology and a B.S. in English from Rutgers University, and is an accomplished outdoors woman who loves to hike, sea kayak, ski and snowshoe. She and her husband Sidney, who is a mental health professional, are currently getting to know the community and house hunting. The Division of Science and Natural Resources offices are in the historic Range Light Station in downtown Munising and Meg can be reached at 387-4818.
"I am very excited to join the team at Pictured Rocks National Lakeshore, and appreciate the opportunity I've been given to work in such a wild and revered national park," remarked Ms. Hahr. "My husband and I are really looking forward to becoming a part of the community and enjoying all of the great outdoor activities the area has to offer."