Date:
April 11, 2008
Contact:
Gregg Bruff, 906-387-2607, ext. 208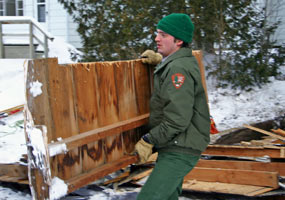 By Gregg Bruff
It takes an incredible amount of planning, logistics, and just plain everyday hard work to keep a National Park Service area up and running for visitors and staff. Some National Parks, like the Grand Canyon or Yellowstone, are like small cities that have their own water and waste treatment operations, schools, grocery stores, and other service operations. But parks like Pictured Rocks National Lakeshore rely on a very talented - and often overlooked - group of people often simply called "the maintenance crew."
The maintenance crew at the Lakeshore consists of eight permanent personnel and three to eight seasonal workers. The full-time staff is engaged in keeping the park operational through all seasons. While it is easy to recognize a maintenance person plowing a snow-clogged road, there are mountains of behind the scenes work that occurs on a day-to-day basis.
Take for example the Lakeshore water systems. Steve Howard and Jack Roberts must test and treat our water systems at standards prescribed by the State of Michigan and the National Park Service. This is accomplished on a monthly basis and requires precise record-keeping of tests for contaminants and water chemistry. The park operates ten wells and 14 water systems.
Dennis Kratzke and Phil LaCombe are busy in the summer season mowing roadsides, around buildings, and extensive day use areas throughout the park. They also clean and maintain the lakeshore's campgrounds and day use areas including toilet cleaning and trash collection. Don Masters serves as the custodian at Park Headquarters where he keeps the place spic and span.
And speaking of mountains of work, imagine the refuse that is collected in the Lakeshore over a year's time from campgrounds, day use areas, offices and maintenance shops. Though the park is a leader in community recycling efforts, we still generate 300 cubic yards of waste each year that is collected and transported by park staff.
Visitor facilities such as information centers, day use areas, campgrounds, and the Lakeshore backcountry also require maintenance to keep a high level of service for local and out of town visitors. A seasonal trails crew led by Ted Shepard and Wes Lussman, with the assistance of Youth Conservation Corps, Student Conservation Association and Lakeshore Adopt-A-Trail and Adopt-A-Campsite volunteers, maintain 100 miles of trails in the park including numerous stairs, bridges, turnpike trails in wet areas, beach access points, and 13 backcountry campsites.
Whew! And that doesn't even include 25 miles of roads that park staff maintain both summer and winter. During the warmer time of year, Brad Bradley can be found in the park grader, smoothing out an access road into Twelvemile Beach or Little Beaver Lake Campgrounds, and in winter behind the plow.
With winter, of course, comes the proverbial road plowing and ski trail grooming. The Lakeshore ski trails include about 22 miles of trail that must be cleared of branches in the fall, prepped with the initial snows, and groomed on a regular basis for ski enthusiasts. This important work helps makes the Lakeshore a four-season park.
The Lakeshore is also known for its cultural history attractions like the former Sand Point and Grand Marais Coast Guard Stations and the 1874 Au Sable Light Station. People like Gary Vieth care for these historic treasures, some of which are on or eligible for listing on the National Register of Historic Places. This work requires highly skilled craftsmanship with wood working, glazing, painting and surface protection, masonry, and other trades.
For example, in 2007 one crew consisting of Ed Lasich, Buck Swanson, Robert Richmond, and Steve Miller completely renovated the historic sidewalk system at the Au Sable Light Station. Now visitors can walk the sidewalks without fear of tripping or turning an ankle, and the historic scene has been preserved.
An important behind the scenes effort is the Lakeshore's vehicle fleet mechanic, Bill Magli. He is responsible for keeping 87 pieces of vehicles and equipment - from an electric car and passenger vehicles, to four-wheel drive trucks, tractors, a grader, and a 10 ton snow plow - on the road. Keeping up with service and repairs on vehicles regularly operated on gravel roads is challenging.
Two behind the scenes maintenance administrators are John Ochman and Chris Case. John is responsible for a computerized maintenance asset management program that documents the condition of buildings, signs and other facilities, programs out-year work projects and funding, and records work accomplished when maintenance funding has been obligated. The sophisticated program is at the heart of any NPS area's facility management system.
Chris Case has been the facility manager since 1991 and oversees not only the daily operation of the maintenance staff, but also develops budget, planning, contracts, and other implementation efforts. Many people know Chris through his efforts at sustainable operations, conversion of the Lakeshore's program to biofluids, recycling, photovoltaic and geothermal power and other initiatives that have won national awards.
So the next time you visit the Lakeshore, regardless of the season, consider the talented and dedicated "maintenance crew" that keeps the park up and running so you, your children and grandchildren, friends and family can enjoy it in a safe and convenient manner.