Date:
September 4, 2009
Contact:
Jim Northup
, 906-387-2607, ext. 202
Contact:
Chris Case
, 906-387-2607, ext. 209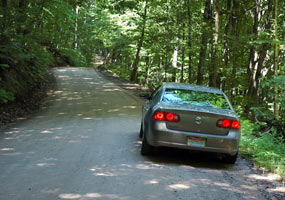 (Munising, MICH.) Superintendent Jim Northup announces that the Environmental Assessment/ Assessment of Effect (EA/AoE) for the proposed rehabilitation of Little Beaver Lake Road is available for a 30-day public review and comment period.
Little Beaver Lake Road is a 3.45-mile gravel road that provides access from Alger County Road H-58 to a small, rustic 8-site, drive-in campground and a small boat launch adjacent to Little Beaver Lake. The road also provides access to trailheads that lead into the lakeshore's backcountry areas, including Beaver Basin Wilderness. The road pre-dates the establishment of the national lakeshore and was not constructed to currently accepted standards for the volume and type of public use the road receives today. The volume and type of public use has increased since the establishment of the national lakeshore and may increase slightly with the upgrade of County Road H-58.
It is the intent of the national lakeshore to minimize changes to visitor experience and adjacent resources through context-sensitive design. The current character of the road and the visitor driving experience were key considerations when evaluating possible alternatives for road rehabilitation. The proposed work includes improvement to the road surface and drainage, and increasing passing and sight distances on narrow, winding road segments. In addition, the proposal suggests increasing parking capacity at the campground, boat launch, and trailhead areas. Road rehabilitation could begin in 2010.
An informational meeting will be held at the Alger Heritage Center on Tuesday, September 22, at 7 p.m.
The public is invited to direct comments or concerns related to this project no later than October 9, 2009, to Superintendent Northup. Comments may be submitted online at the NPS Planning, Environment and Public Comment website -
http:/parkplanning.nps.gov/piro
. Comments may also be mailed to Pictured Rocks National Lakeshore, P.O. Box 40, Munising, MI 49862-0040; telephone 906-387-2607, ext. 202.