PRNL Welcomes Bruce Leutscher as New Chief of Science and Natural Resources
Date:
January 20, 2010
Contact:
Jim Northup
, 906-387-2607, ext. 202
Contact:
Bruce Leutscher
, 906-387-2680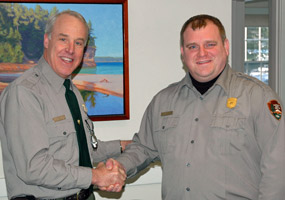 (MUNISING, Mich.) Pictured Rocks National Lakeshore has a new Chief for their Division of Science and Natural Resources. Bruce Leutscher, who has served as a park biologist since April 2000, has been promoted to the Division Chief position.
"Bruce has been a very valuable member of our park staff for many years, and has earned the opportunity to serve as the Division Chief," said lakeshore superintendent Jim Northup. "Bruce brings a broad perspective on park management, excellent supervisory skills, a passion for resource protection and great technical knowledge to this position. His very strong background in vegetation management, exotic plant management and forest health issues will serve the park very well and be a wonderful compliment to the skills held by our other natural resource staff including Lora Loope, our Aquatic Ecologist," Northup added.
Leutscher served on the interdisciplinary team that developed the park's 2004 General Management Plan, has managed the park's vegetation inventory and monitoring program, the exotic plant management program, was a principle author of the park's Fire Management Plan, and has developed excellent working relationship with our key partners and cooperators, Northup said. "I am very pleased to have him joining our senior park management team."
Leutscher replaces Meg Hahr, who transferred to the park last March from Alaska, but was tragically killed in a mountain biking accident in June. Hahr had replaced former Division Chief Jerry Belant.
The Division of Science and Natural Resources is responsible for managing a wide variety of research projects, inventory and monitor initiatives and conducting field work in the park involving wildlife, fisheries, vegetation, water quality and more.
The Division also works very closely with other federal, state and local natural resource agencies and organizations.
Prior to working at Pictured Rocks, Bruce worked for the University of Michigan coordinating a state-wide forest health and impact monitoring program.
Bruce holds a Bachelor of Science in Natural Resources degree and a Master of Forestry degree from the University of Michigan. He and his wife Amy are the proud parents of two young daughters and make their home on Powell Lake. The Division of Science and Natural Resources offices are in the historic Range Light Station in downtown Munising and Bruce can be reached at 387-2680.
"I am grateful for this opportunity and look forward to the challenge of managing the Science and Natural Resources program at Pictured Rocks," remarked Leutscher. "Working with fellow staff members that care so deeply about protecting the outstanding natural and cultural resources entrusted to us while providing for a high quality and safe visitor experience has been and will continue to be a very rewarding experience."
Last updated: April 10, 2015