Date:
August 22, 2006
Contact:
Tim Colyer
, 906-494-2669
Contact:
Larry Hach
, 906-387-2607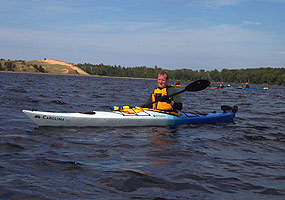 Pictured Rocks National Lakeshore recently accepted a generous donation of two sea kayaks and related equipment to be used for water patrol on Lake Superior and inland lakes within the park.
Ron Smith of Black Parrot Paddling donated the kayaks and equipment to the lakeshore at the 2006 Great Lakes Kayak Symposium in Grand Marais, Michigan. Ron and his wife Suzie are kayaking enthusiasts and instructors who play a large role in the annual symposium. Kayaking is a growing sport on the Great Lakes, and Smith feels that the gear will help rangers with their patrol functions and develop a better understanding of the sport.
Smith orchestrated the donation by working with Riverside Kayak Connection of Wyandotte, Michigan. Riverside provided the two sea kayaks and offered discounts on the related equipment, which was then purchased with funds from The Great Lakes Sea Kayak Club.
All together, Pictured Rocks National Lakeshore received two complete sets of equipment including paddles, life jackets, paddle jackets, pumps, tow straps, and more. Ron and Suzie Smith donated two full days of kayak training for the rangers. which included basic skills and rescue techniques.
In addition to the donation presented at the Great Lakes Sea Kayak Symposium, Nancy Cihak of Au Train donated wet suits for the rangers to wear while on kayak patrol in the Lakeshore's cold water environment. Chuck Cardinal of Grand Marais donated his time and effort to build a rack transport the kayaks atop patrol vehicles.
Rangers at the Lakeshore are pleased with the new kayaks because it will give them a means to patrol areas not accessible by larger boats. Kayaks also provide an effective and environmentally friendly way to conduct patrols on Little Beaver and Beaver Lakes, which are restricted to electric motors only.
Park Superintendent Jim Northup added, "We are very grateful to these private citizens and these organizations for their generous support of the operations of Pictured Rocks National Lakeshore."