Date:
May 22, 2007
Contact:
Dave Kronk
, 906-387-2607, ext. 206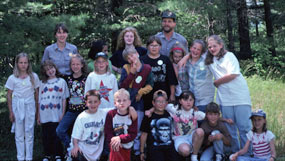 Children and adults can participate in a fun-filled and free event at Pictured Rocks National Lakeshore on Saturday, June 2, from noon until 2 p.m. This Junior Ranger Day is open to all children and adults who have enrolled in the after school or summer junior ranger programs at Pictured Rocks National Lakeshore since the program started there in 1992. This event will be held at Park Headquarters, located at N8391 Sand Point Road, about four miles northeast of downtown Munising.
"We want to thank all the children that have participated in the programs over the years. The children have learned more about our nation's first National Lakeshore and have pledged as junior rangers to be good steward of this park and other lands," remarked Park Education Ranger Dave Kronk.
The junior ranger appreciation day will be a fun event with games, a free lunch, and awards of badges, patches and certificates.
This event will be an opportunity for Junior Rangers of different ages and from different schools in Alger County to meet each other, share stories and experiences, and have some fun during a learning game called "Instincts for Survival."
A special award will be given to two former Pictured Rocks Junior Rangers, Shaun Hughes and Brad Heyrman, who have been hired this summer to work as seasonal law enforcement rangers at the National Lakeshore.
Almost all of the 391 National Park sites around the country have a junior ranger program of some kind. Many are offered in the summer, some are held year round, and some are offered through the internet at
www.nps.gov/webrangers
. These programs bring the parks to life for our youngest visitors. Financial assistance for many of the junior ranger programs comes from the National Park Foundation.
"We are proud to support the junior ranger program. It is an important part of the nationwide effort to connect children to America's heritage so that they can develop the sense of pride and ownership necessary to be the future stewards of these magnificent places," according to the Chief Executive Officer of the
National Park Foundation
.
To be eligible for this event, youth must have participated in the Pictured Rocks National Lakeshore junior ranger program in the past or be a current junior ranger at the park. Parents are welcome to attend with their children and are invited to participate in the learning games and activities.
Pre-registration is required for the event. Please call Ranger Kronk at 906-387-2607, extension 206, to sign up.