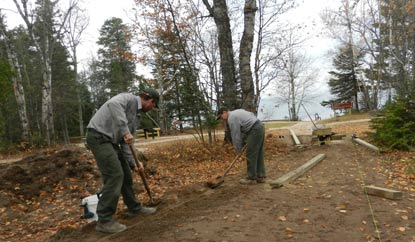 News Release Date:
November 8, 2012
Contact: Chris Case, 906-387-2607, ext. 209
Pictured Rocks National Lakeshore completed several projects this summer to improve accessibility for handicapped individuals wanting to enjoy the park.
"We started by upgrading all picnic areas throughout the park and the existing handicapped accessible campsite at Little Beaver Lake Campground," said Chris Case, Chief of Facility Management. "Many picnic areas did not meet current design standards, so we have modified them to be more accessible and easier to use."
"We added a handicapped accessible picnic site at Sand Point Beach and a new access at the Hurricane River day use area that will allow people to enjoy this beautiful spot where the river flows into Lake Superior," Case added.
New handicapped accessible restrooms have been placed at Sand Point, Miners Beach, the Chapel/Mosquito Trailhead, Little Beaver Lake Campground, Hurricane River Campground and the Grand Sable Lake boat launch and picnic area. In the next several years, others will be added at Twelvemile Beach and the Log Slide, Case said.
"We are also working to have our trailheads meet accessibility standards," Case said."It is impossible to make every part of the lakeshore fully accessible. However, we are working to make sure that the variety of experience that Pictured Rocks offers is available to all visitors."