Date:
April 1, 2011
Contact:
Gregg Bruff
, 906-387-2607, ext. 208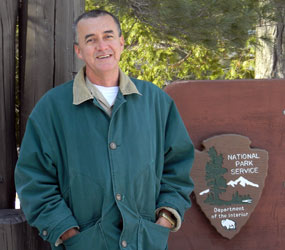 (Munising, MICH.) Pictured Rocks National Lakeshore Chief of Heritage Education Gregg Bruff has welcomed Luis Mena, of the Puntarenas region of Costa Rica, has joined the park staff as a Harvard University Climate Fellow. The one month fellowship is facilitated by the Latin American Scholar Programs at American Universities (LASPAU) Academic Professional Programs for the Americas. In concert with the U.S. Department of State, LASPAU provides access to global educational opportunities, stimulates knowledge generation and transfer, and promotes intercultural understanding throughout the Americas.

Luis manages five protected areas in the Nicoya Peninsula of Costa Rica, as well as working with the Karen Mogensen Preserve, a non-governmental organization. Over the years, Luis has directed a reforestation program in the dry tropical forest, which is now in transition to a humid forest boasting a spectacular array of flora and fauna, many of which are in danger of extinction. At an altitude between 100 and 700 meters, the 760 hectares preserve forms part of Costa Rica's biological corridor. This Nicoya Peninsula protected zone hosts large areas of primary forest with giant trees, lushly adorned with mosses, vines and many orchids. Over 100 species of bats, 800 species of birds, and 130 species of snakes inhabit the region. Rare animals like ocelots, jaguars, pumas and otters make the forest their home and countless birds and butterflies can be seen.

The purpose of the Climate Fellowship is to expose Luis to the impacts of climate change in the United States, and in particular with respect to impacts on National Parks. He is particularly interested in learning education outreach techniques and developing curricula to take back to Costa Rica so young people and adults will learn how climate change is and will increasingly affect the ecosystems of his country. At Asapaleco, he manages an ecotourism lodge that hosts 20 people a week. Luis hopes to expand the range of programming to include more local school students.

Mr. Mena will be working with Dave Kronk, Park Ranger (Education), of the Lakeshore staff and developing illustrated public programs that will be announced at a later date. As Luis visits Alger County, please feel free to introduce yourself and make him feel at home. For additional information, please contact Gregg Bruff, 906-387-2607, x208.