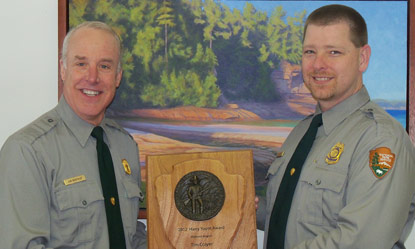 News Release Date:
March 22, 2013
Contact: Tim Colyer, 906-387-2607, ext. 203
MUNISING, Mich. Tim Colyer, Chief Ranger at Pictured Rocks National Lakeshore, has received the 2012 National Park Service Midwest Region Harry Yount Award.            

The Harry Yount Award honors National Park Service (NPS) employees for outstanding service in traditional ranger duties such as search and rescue, emergency assistance, and protecting visitors and park resources. This peer-nominated award is named for the person considered to be the first national park ranger.           

Every year, each of the seven regions within the National Park Service selects one park ranger for the regional Harry Yount Award. The selections are made from peer nominations throughout the region and are based on a ranger whose overall career impact, record of accomplishments, and excellence in traditional ranger duties have created an appreciation of the park ranger profession on the part of the public and other members of the profession. Each regional award recipient is then eligible for the National Harry Yount Award.           

Colyer was recently presented with the award at a gathering of NPS staff, family, and community members. In presenting the award, former lakeshore superintendent Jim Northup remarked, "TC has very strong suite of traditional field ranger skills, with particularly strong skills in resource education, law enforcement, emergency medical skills, search management, boating skills and all-risk incident management. His team approach towards his working relationships upholds the finest traditions of the ranger profession."            

Colyer began his NPS career in Yellowstone National Park and served at the Chesapeake and Ohio Canal National Historic Park prior to coming to Pictured Rocks in May 2005. He has served as the lakeshore's Chief Ranger since 2008.