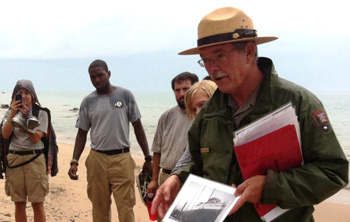 News Release Date:
February 7, 2013
Contact: Jim Northup, 906-387-2607, ext. 202
MUNISING, Mich. Gregg Bruff, Chief of Heritage Education and Cultural Resources at Pictured Rocks National Lakeshore, will retire on February 22, after a 37 year career with the National Park Service and the U.S. Forest Service. Bruff also served in the Army Reserve and National Guard from 1971-1978.
After graduating from Southwest Missouri State University with a Bachelor of Science degree in Wildlife Biology in 1974, Bruff began his NPS career as an interpretive ranger at Ozark National Scenic Riverways in Missouri. He later worked for the Mark Twain and Inyo National Forests, before returning to the NPS in 1979 as a District Naturalist at Saint Croix National Scenic Riverway in Wisconsin. He came to Pictured Rocks as an Interpretive Specialist in 1988 and became the Chief of the Division in 1993.
The Division of Heritage Education and Cultural Resources at Pictured Rocks is responsible for a broad spectrum of programs and activities, including operation of all of the park's visitor centers; the park's education outreach program; the development of a wide variety of special programs, publications, wayside exhibits and other interpretive media; and care of the park's cultural resources, including archeology, ethnography, historic buildings and an extensive museum collection.
"Gregg has been a great asset at the park," said Lakeshore Superintendent Jim Northup. "He is incredibly knowledgeable about the park's resources and history, has always had a great passion for sharing that knowledge with the public, and has made really important and lasting contributions to the park's overall interpretive program and in working with our partners over the course of the past 25 years. I particularly applaud Gregg's work in talking about the impacts of climate change on our parks, and in designing the Alger Energy Saver's Program," Northup added.
Gregg has been active in the Munising area by helping to initiate the Munising Bay Arts Association, guided special events like the Sails on the Bay and Madeline visit, and a visit by the Lake Guardian, the NOAA Great Lakes research vessel. He initiated the Lakeshore's annual Fireside Chats series and the Science Café series and participated in the award-winning Life of Lake Superior Days, facilitated by Michigan State University Extension. Gregg also worked closely for several years with the Michigan Great Outdoor Culture Tour programming.
During his NPS career, Bruff also made important contributions beyond Pictured Rocks. He worked with other NPS employees to develop the first General Management Plan for Tallgrass Prairie National Preserve in Kansas, drafted management plans for Fort Knox II in Indiana and John Muir's boyhood home in Wisconsin, and a viewshed management plan at Wilsons Creek National Battlefield in Missouri. In 2005, he served as the Acting Director of the Arthur Carhart Wilderness Training Center in Missoula, Montana. Gregg contributed internationally as well having worked with the Management Options planning team for Al Balid, a 12th Century trading entrepot in Salalah, Oman.
In 1991, he was the winner of the Midwest Region's Freeman Tilden Award for excellence in interpretation.  In 2001, Gregg was a member of the Lakeshore team recognized by the Department of the Interior Environmental Achievement Award and the 2002 White House Closing the Circle Award. He is one of the few NPS rangers to ever score a perfect 300 on the firearms range at the Federal Law Enforcement Training Center, during basic law enforcement training. In 2008, the Lakeshore was represented by an ornament painted by Gregg that accompanied other NPS areas on a National Park themed White House Christmas tree.
In anticipation of his upcoming retirement, Bruff said, "The Lakeshore and the Alger County area have been a tremendous place to work and live for the past 25 years. The park has enabled me to share my passion for art and design, landscape appreciation, regional history, literature, community engagement projects, and many other fields of interest. It's been a pleasure serving the American people at one location for so long."
Gregg plans to remain in the Upper Peninsula where he will continue with his landscape art, writing, graphics, sailing, motorcycling, teaching and volunteering for community projects. A "thank you and farewell" evening is being planned for February 21 at 6 p.m. at the Falling Rock Café and Bookstore. An RSVP is required; please contact the lakeshore at 387-2607, ext. 201, for more information.
About the National Park Service. More than 20,000 National Park Service employees care for America's more than 395 national parks and work with communities across the nation to help preserve local history and create close-to-home recreational opportunities. Learn more at www.nps.gov.