Date:
October 26, 2007
Contact:
Jim Northup, 906-387-2607, ext. 202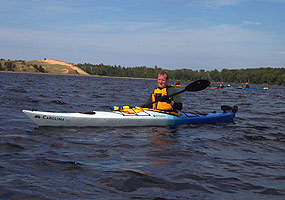 Pictured Rocks National Lakeshore Superintendent Jim Northup announced today that the park has established a new boat-in backcountry campsite on Grand Sable Lake in the eastern portion of the park. This new campsite will be available for public use next season, beginning May 1, 2008.
"The establishment of a boat-in campsite on Grand Sable Lake was called for in the park's new General Management Plan, approved in 2004," Northup said. "Since that time, the park staff has worked to select a specific location and complete the necessary environmental compliance work and our maintenance staff has worked to install the minimal but necessary facility improvements," Northup added.
"This campsite will be managed in the same manner as the other 13 backcountry campsites within the national lakeshore," Northup explained. A Backcountry Camping Permit will be required for use of the site. The site will be for boat-in campers only. In order to provide a unique opportunity for quiet and solitude while camping on Grand Sable Lake, use of the site will be limited to one party of no more than 6 people per night. As with all other backcountry camp sites, a maximum of two tents and a three night consecutive stay will be permitted. Also, visitors must follow Leave No Trace Principles, such as carry-in, carry-out of trash. Permits will be available from the Interagency Visitor Center in Munising, and at the Grand Sable Visitor Center during the summer months.
"This project represents one more step in keeping the promises we made to the public about the long-term management of Pictured Rocks, as expressed in the new General Management Plan," Northup said. "Under the new GMP, we are trying to provide a range of appropriate recreational opportunities in the national lakeshore, and we believe this new boat-in campsite will provide a very special opportunity to camp on one of the most beautiful inland lakes in the park."