Date:
December 12, 2011
Contact:
Chris Case
, 906-387-2607, ext. 209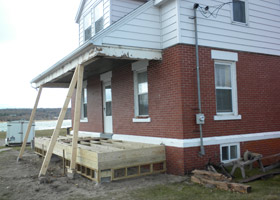 GRAND MARAIS, Mich.  The Harbor of Refuge building on Coast Guard Point in Grand Marais is getting a new front porch, thanks to the National Park Service.  

"Many people are not aware that this historic building is owned by the National Park Service as part of the national lakeshore," according to Chris Case, Pictured Rocks National Lakeshore Chief of Facility Management. "It came into our ownership in 1997, along with two other former Coast Guard facilities in Grand Marais. While these structures are challenging and expensive to maintain, they are beautiful buildings and we are proud to take care of them."   

 "The building's front porch had deteriorated, but it took us several years to secure the funding necessary to fix it," Case said. "We now have the opportunity to begin the progressive restoration the building to its early 1900 appearance." 

The park's Chief of Heritage Education Gregg Bruff added, "We lease this building to the Grand Marais Historical Society to operate the Lighthouse Keepers Museum. It is an important part of the community's maritime history, and we appreciate what the Historical Society does there to help people understand that history." 

Case said the work should be completed by mid December.   



About the National Park Service. More than 20,000 National Park Service employees care for America's 395+ national parks and work with communities across the nation to help preserve local history and create close-to-home recreational opportunities. Learn more at www.nps.gov.