Date:
September 20, 2007
Contact:
Gregg Bruff
, 906-387-2607, ext. 208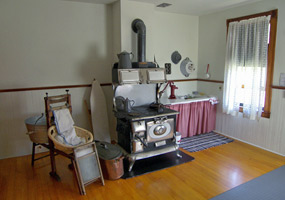 Pictured Rocks National Lakeshore is looking for a few good antiques ... lighthouse antiques to be exact. The Lakeshore is seeking donations of furniture and other period memorabilia this winter to refurnish the first floor of the assistant keepers residence at the
Au Sable Light Station
. The targeted period of refurnishing is 1910 or a few years prior to that. 1910 is the year the head keeper's quarters were constructed and the former keeper's quarters was divided into duplex apartments.
"We are looking for furnishings that reflect the life of a second assist keeper," said Chief of Heritage Education Gregg Bruff. "John Brooks was stationed at Au Sable during this time period. His lifestyle would have been fairly spartan, with few luxuries." For this reason the Lakeshore is looking for only the most basic furnishings.
"Au Sable was a remote station accessible only by water until 1938 when the road was constructed from the west. Elaborate furniture like organs, fancy carved furniture or glass chandeliers would likely not have been part of daily life at the station," Bruff continued. Each station had a small shop area, so tools of the early 1900's will also be needed for the refurnishing.
The Lakeshore is pleased to receive a donation from the
National Parks of Lake Superior Foundation
for the Au Sable refurnishing project. This is the second year the Foundation has awarded grants to the member parks. A beautifully restored wood cook stove will be purchased for the lighthouse assistant keepers kitchen.
Potential donations will be evaluated by Lakeshore staff over the winter for appropriateness. A photograph of objects and some form of proof of object age is required. A list of objects is available by contacting Gregg Bruff at 906-387-2607, extension 208, or by
email
.
Au Sable Light Station Furnishings List
(pdf)
Au Sable Light Station Assistant Keepers Furnishings Layout
(pdf)