Date:
February 7, 2012
Contact:
Pam Baker
, 906-387-3700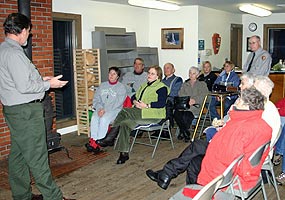 MUNISING, Mich.   Join a Park Ranger for the 2012 Fireside Chat speaker series, public interpretive programs about the natural and cultural resources of Pictured Rocks National Lakeshore. All programs begin at 7 p.m. at the Munising Falls Visitor Center, located near Munising Memorial Hospital at 1505 Sand Point Road in Munising. 

On Wednesday, February 15, Matt Zika from the National Weather Service presents "A Superior Forecast." Matt discusses how Lake Superior influences our weather and the challenges of marine forecasts.  

On Thursday, February 23, Troy Henderson from the Michigan Iron Industry Museum presents "Logging Camps in the U.P." 

On Thursday, March 22, Barry James from the Michigan Iron Industry Museum presents "Immigration to the U.P."  The program includes details about the voyage over the Atlantic Ocean, Ellis Island, and discrimination immigrants faced upon arrival to work in the mines. 

For more information about any of these presentations, please call the Interagency Visitor Center at 387-3700.