Date:
April 28, 2008
Contact:
Jim Northup
, 906-387-2607, ext. 202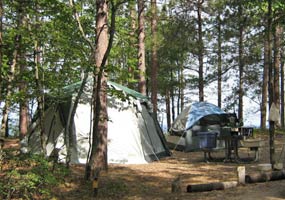 (MUNISING, Mich.) The National Park Service has announced that there will be modest recreational fee increases for visitors to Pictured Rocks National Lakeshore this visitor season.

The fee for car camping in one of the park's three drive-in campgrounds, (Little Beaver Lake, Twelvemile Beach and Hurricane River) will increase from $12 per night to $14 per night. Waterfront sites at Twelvemile Beach Campground will be $16 per night.

The fee for overnight backcountry camping at one of the 13 designated backcountry camping areas will increase from $4 per person per night to $5. The $15 fee charged to individuals or groups who wish to reserve backcountry sites in advance of their trip will remain at $15.

The fee for participating in a guided tour of the Au Sable Light Station will increase from $2 to $3 per person.

There is no general Entrance Fee for Pictured Rocks National Lakeshore.

"These fees are determined by conducting an annual comparison of fees charged for similar facilities and visitor opportunities in our area," said Lakeshore Superintendent Jim Northup. "Our fees have not increased for several years. After conducting the study in 2007, we determined that our fees have fallen behind those charged by nearby national and state parks and forests."

"These modest increases will make our fees more consistent with those charged by others. Since we conducted the study last year, we have noticed that the fees at many of the other areas have also been increased, so enjoying the National Lakeshore still remains a great bargain," Northup added.

Under the terms of the Federal Recreation Enhancement Act, 100% of the recreation fees collected within Pictured Rocks National Lakeshore remain at the lakeshore to do good work on behalf of the park.

"We collect about $125,000 annually. We use these funds to hire staff to keep the campgrounds clean, conduct the lighthouse tours, staff visitor centers, maintain over 95 miles of backcountry trails and the backcountry campsites, and to maintain and improve park facilities," Northup said. "These fees are critical to our ability to sustain park operations."

Some of the special projects currently underway or planned with funds collected from these fees include improving backcountry signs, restoring the historic landscape at Au Sable, and improving campground facilities.

"We are also fortunate that since we are one of the smaller parks in the system in terms of fee collection, we are also able to compete for funds held in a special account, generated by 20% of the fees collected at places like Yellowstone, Yosemite and the Grand Canyon," explained Northup.

"We also have a number of special projects underway funded by the special 20% fund including improving road ways, repairing historic buildings and improving water systems."

"We appreciate the public's support for paying reasonable fees for the use and enjoyment of park facilities," Northup concluded.