Date:
March 7, 2007
Contact:
Jim Northup
, 906-387-2607, ext. 202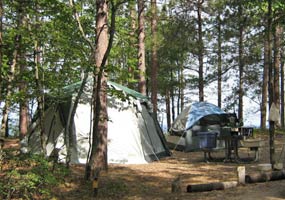 Pictured Rocks National Lakeshore is proposing to increase the fee charged for "frontcountry" and backcountry camping and for guided tours of the interior of the Au Sable Light Station beginning in the summer of 2008.

Under this proposal, fees for camping at the Lakeshore's three drive-in campgrounds (Little Beaver Lake, Hurricane River, and Twelvemile Beach) would increase from $12 per night to $14 a night. A fee of $16 per night would be charged for the waterfront campsites within the Twelvemile Beach Campground.

The proposed fees were determined using a comparability study of other similar campgrounds in the region at Porcupine Mountains and Tahquamenon Falls State Parks, at Lake Superior Provincial Park in Canada, and at the nearby Bay Furnace and Pete's Lake Campgrounds operated by the Hiawatha National Forest.

"We are required by National Park Service policy to ensure that our fees are not excessive when compared to other nearby facilities" Park Superintendent Jim Northup said. "Our analysis indicated that we were actually below those regional averages and this increase would bring our fees in line with other similar facilities."

"These funds are used to support the summer seasonal staff that take care of the frontcountry camping facilities, empty the trash and clean the bathrooms," Northup said, "and to fund our summer fee collection operation."

Under this proposal, the per person per night fee for camping overnight at one of the park's 13 designated backcountry campsites would increase by $1 from $4 per night to $5.

"Many folks do not realize how expensive it is to maintain a network of backcountry trails, signs, bridges, boardwalks and campsites" Northup said. "Because of logistics, in many cases it is actually more expensive than maintaining frontcountry facilities," Northup added. "It is very important for the public to understand that we get to keep 100% of the fees that are collected in the park, and we put that money right back in to resource protection and maintaining safe and high quality trails and facilities."

Under this proposal, the fee for the guided tours of the interior of the Au Sable Light Station offered in the summer months would increase from $2 per person to $3. "These funds are used to hire a seasonal park ranger who conducts the tours and will also be used for a variety of historic preservation projects at Au Sable," Northup said.

"The public may recall that our recent business planning consultants also recommended that we consider a park-wide entrance fee and beginning to charge a fee for our outreach education programs," Northup said. "We are hoping to avoid having to pursue either of those fees in the near term, and the President's recent proposal to increase base operational funding for national parks over the next 10 years, if approved will be a big help," Northup added. "However, we think these modest increases in camping and tour fees are appropriate and the increased revenue is needed to sustain current facilities and services," Northup concluded.

The public may offer comments on the proposed fee increases through March 30, 2007, by writing to the Superintendent at P.O. Box 40, Munising, MI 49862, on the park's website at www.nps.gov/piro, or by email. If approved by the Washington Office of the National Park Service, the fee increases would become effective in 2008.