Date:
September 8, 2006
Contact:
Jim Northup
, 906-387-2607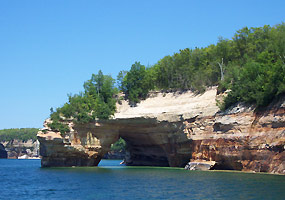 A new National Park Service study estimates that the economic value of the existence of Pictured Rocks National Lakeshore for the local community is $19.3 million annually, and reports that the presence of the park supports a total of 461 jobs.
The report, entitled the "Economic Benefit of Units of the National Park System" was released by the Washington Office of the National Park Service in mid-August. Using a formula known as the Money Generation Model, it calculates the economic benefit of every unit of the U.S. National Park System. For the purposes of the study, "local area" is defined as within 50 miles of the park.
"In my mind, parks are priceless," Pictured Rocks National Lakeshore Superintendent Jim Northup said. "As Americans, I hope we value our parks not only for their economic value but more so for what they represent as part of our heritage, for preserving the best of what America has to offer, and for opportunities to learn, have fun, find inspiration, physical challenge and even spiritual renewal."
"However, we also know that units of the national park system have tremendous economic value to local communities," Northup added. "We are proud to be an important component of what makes the Upper Peninsula such a special place to visit, and hope the community recognizes the park's value as well."
"The park staff and I will continue to do everything we can to continue to make Pictured Rocks National Lakeshore an attractive and wonderful place to visit," Northup concluded.
The full NPS study is available on the web at
https://www2.nature.nps.gov/stats/