Tim Colyer Selected as Regional Chief Ranger
Date:
November 6, 2013
Contact:
Captain Gregory T. Monahan, United States Park Police
, 402-661-1710
Contact:
Tim Colyer
, 906-387-2607, ext. 203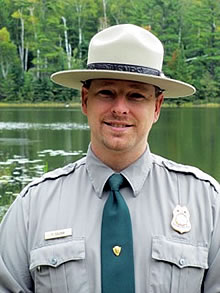 Tim "TC" Colyer, a 13 year veteran of the National Park Service, has been named chief ranger for Midwest Regional Office. Colyer is currently the chief ranger at Pictured Rocks National Lakeshore.

He reports for duty on December 29, replacing Robert Maguire, who was recently named the superintendent of Lake Meredith National Recreational Area. In his new post, Colyer will oversee the visitor and resource protection program for Midwest Region. "TC is an outstanding selection as the regional chief ranger for our region," said Regional Director Mike Reynolds. "He brings a breadth of experience in not only law enforcement and park administration but with the incident management team as well."

Colyer's career has included assignments on the East and West Coasts, including an acting assignment in Law Enforcement, Security and Emergency Services in the Washington Office. He is currently the incident commander for the Midwest Incident Management Team.

Colyer has served as chief ranger at Pictured Rocks since 2008. During his tenure there, he advised the superintendent and NPS staff on law enforcement and visitor and resource protection issues, including emergency medical services, structural and wildland firefighting, and land and maritime search and rescue. 

His other assignments include acting superintendent and acting division chief for heritage education and interpretation at Pictured Rocks National Lakeshore (2013), deputy chief of operations in Law Enforcement, Security and Emergency Services in the Washington Office (2012), Midwest Incident Management Team (2009-present), and district ranger and park ranger at Pictured Rocks National Lakeshore (2005-2008), C&O Canal National Historic Park (2002-2005), and Yellowstone National Park (1999-2002).

Before joining the NPS, Colyer served as a paramedic in Pennsylvania, Alaska, and Wyoming. Colyer is a 1990 graduate of the Pennsylvania College of Technology, where he earned an associate's degree in aviation technology, and a 1993 graduate of the Altoona Hospital School of Medicine, where he received his paramedic license and the Academic Achievement Award. He is also a 2013 graduate of the Generating Organizational Advancement and Leadership (GOAL) Academy.
 
"I am honored and humbled by the privilege of serving the great people and parks throughout the Midwest Region," Colyer said. 

Colyer will be accompanied in Omaha by his wife, Emily, a registered nurse, and their two children, Adam, 8 and Sarah, 7.