Pictured Rocks NL Welcomes Wildlife Biologist
Date:
October 29, 2010
Contact:
Cindy Heyd
, 906-387-4818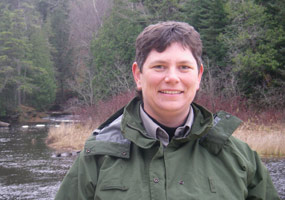 (MUNISING, Mich.) Pictured Rocks National Lakeshore has a new Wildlife Biologist. Cindy Heyd has transferred from Colorado, where she most recently served as a Natural Resource Program Manager at Dinosaur National Monument. 

"We are delighted to have Cindy joining our science and natural resource management team," said lakeshore superintendent Jim Northup. "She comes highly recommended by those she has worked with at various agencies and possesses technical skills that will strengthen our team. Her strong background in wildlife will also be a wonderful compliment to the skills held by our other permanent science and natural resources staff, Division Chief and Forest Ecologist Bruce Leutscher and Aquatic Ecologist Lora Loope." 

The Division of Science and Natural Resources is responsible for managing a wide variety of research projects, inventory and monitor initiatives and conducting field work in the park involving wildlife, fisheries, vegetation, water quality and more. The Division also works very closely with other federal, state and local natural resource agencies and organizations. 

"I believe Cindy will quickly revitalize our wildlife program at Pictured Rocks," said chief of science Bruce Leutscher. "To complement her strong wildlife skills Cindy has a wide range of experience in various programs that will be a great addition to our staff." 

Prior to working at Dinosaur, Cindy served as a district conservationist and a soil conservationist for the Michigan Natural Resource Conservation Service, and as a Park Ranger at Ocmulgee National Monument in Georgia. She also has experience from work with the Colorado Natural Resource Conservation Service, Badlands National Park in South Dakota, and Okanogan National Forest in Washington. Included in her broad range of experience is successfully completing training at the Federal Law Enforcement Training Center. Cindy has a degree in Science, Fisheries and Wildlife from Michigan State University. 

"I am excited for the opportunity to come back to Michigan, and look forward to working with fellow staff to manage the natural resources within Pictured Rocks National Lakeshore," remarked Ms. Heyd. "I am really looking forward to settling in and enjoying everything the area has to offer."


Last updated: April 10, 2015