Date:
November 2, 2012
Contact:
Chris Case
, 906-387-2607, ext. 209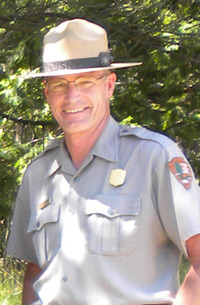 Chris Case, Facility Manager at Pictured Rocks National Lakeshore, will retire on December 1, after a 38 year career with the National Park Service.
Chris began his NPS career as a volunteer intern at Apostle Islands National Lakeshore. After graduating from Northland College in 1974 with a degree in Environmental Studies, he began seasonal assignments at Apostle Islands, Everglades National Park, Biscayne National Monument, then permanent status assignments and Blue Ridge Parkway, Valley Forge National Historical Park and Voyageurs National Park. He arrived at Pictured Rocks in 1989, where he has served as Facility Manager for 23 years. Over the course of his career, Chris has demonstrated his multidiscipline perspective gained working as an interpreter, resource and visitor protection ranger and through the ranks in the maintenance division.
Throughout his career, in addition to his regular work, Chris has served as an instructor for a variety of classes and programs and mentor to many individuals. As part of his regular work, he has managed numerous complex projects, and his vision is represented by the amazing improvements and innovative solutions seen in facilities throughout the park.
"However, no part of Chris' career will leave a greater legacy than his work in developing sustainable practices and in environmental leadership," according to Jim Northup, Pictured Rocks NL superintendent. For over 20 years, Chris has led efforts at Pictured Rocks and throughout the National Park Service and beyond in the application of 'green' technologies including the use of bio-fluids, solar energy, employee-friendly low hazard products, and green procurement. As a result of this work, Chris received the Director's Award for Excellence in Natural Resources Stewardship through Maintenance in 2001, led the team that received the Department of the Interior Environmental Achievement Award in 2001 and the White House Closing the Circle Award in 2002, and received the individual Department of the Interior Environmental Achievement Award in 2005. Since then, he has taught over 60 classes and webinars on environmental leadership to over 2300 individuals, many of whom have implemented what they have learned at their own parks, refuges or places of business.
"Chris has also represented the National Park Service and the Department extremely well and been enormously generous in partnering with and giving back to his community," Northup added. Chris has been a great ambassador for the National Park Service, volunteering in the community band, leading the community recycling program, and leading the group that restored the iconic East Channel Lighthouse in Munising Bay. He has quietly donated over five gallons of blood through local blood drives, and donated over 1200 hours of annual leave to 21 different Department of the Interior employees over the course of the past decade.
In recognition of his collective achievements and contributions to the mission of the National Park Service and the Department of the Interior, Chris was recently awarded the Superior Service Award of the Department of the Interior.
When asked to summarize his 38 year career, Chris responded, "What an extraordinary career opportunity I have had. To love what I do and work with an organization of dedicated and driven individuals, so passionate about taking care of the most special places in the country, has been incredibly meaningful to me."
Chris plans to spend his retirement as he spent his work life, with enthusiasm and intensity. Along with car shows, antique truck restorations, sustainability activities, community involvement, genealogy and home improvement projects, he and his wife Anne Marie plan to spend time with their son in Michigan and daughters in Florida and Switzerland.