Date:
April 14, 2008
Contact:
Jim Northup
, 906-387-2607, ext. 202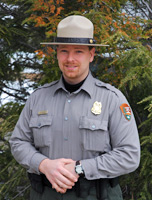 (MUNISING, Mich.) Pictured Rocks National Lakeshore superintendent Jim Northup announced today that Tim "TC" Colyer has been selected as the new Chief Ranger for the park, replacing Larry Hach who retired in January.
"We had several excellent applicants for the position, but in the final analysis I concluded that TC had the best combination of leadership, management, interpersonal communication, and technical skills and experience to not only lead the resource and visitor protection program in the park, but also serve as a member of the parkwide management team," Northup said. "The Chief Ranger also serves as the park-wide safety officer, and TC also has an excellent background in risk management and root-cause accident investigation," Northup added.
Colyer began his National Park Service career in Yellowstone National Park and also served at the Chesapeake and Ohio Canal National Historic Park prior to coming to Pictured Rocks in May 2005 as the Supervisory Park Ranger in Grand Marais. Since Hach's retirement, Colyer has also served as the Acting Chief Ranger.
"The Division of Resource and Visitor Protection is responsible for a broad spectrum of important programs, including resource education, law enforcement, emergency medical services, search and rescue, structural fire protection, wildland fire management, fee collection, and overseeing activities within the park's Inland Buffer Zone," Northup explained. "I am confident that TC can provide not only effective leadership to these functions, but will help us take several of these programs to the next level of professionalism and continue to maintain excellent working relationships with all of our partner law enforcement and emergency service agencies."
In accepting the position, Colyer said, "I am honored to be given the opportunity to serve Pictured Rocks National Lakeshore and our gateway communities in the capacity of Chief Ranger. I am looking forward to building on existing relationships with our neighboring agencies to provide the most efficient and effective service for local residents and park visitors alike."
Colyer and his wife Emily have two children, Adam, 3, and Sarah, 1, and are expected to move to the Munising area in the coming months.