Date:
September 11, 2012
Contact:
Chris Case
, 906-387-2607, ext. 209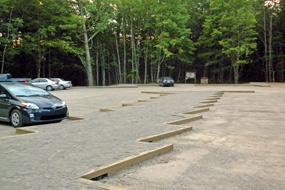 MELSTRAND, Mich.  Upgrade of the access road and parking lot at the Chapel - Mosquito trailhead within Pictured Rocks National Lakeshore is complete, according to Pictured Rocks Chief of Facility Management Chris Case.   

"This was a very successful multi-year project and we are pleased with the results." Case said. "This parking area serves one of the most popular hiking areas in the park. It now has improved traffic flow, increased parking capacity, designated RV and trailer parking, a new restroom, and a much nicer looking trailhead."  

An equally important aspect of this project has been the stabilization of the access road and consequent reduction of siltation into the adjacent Chapel Creek, Case added.

"This project was in the planning stages for a number of years," Case added. The park staff worked together to design the new parking lot and conduct the necessary environmental studies. The work was done by local contractors, including AECom, Balko Construction, and Gerou Excavating.