Changing of the Guard
Date:
August 1, 2008
Contact:
Gregg Bruff
, 906-387-2607, ext. 208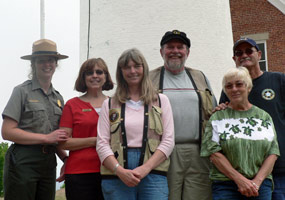 (GRAND MARAIS, Mich.) This summer for the first time, Pictured Rocks National Lakeshore has opened and staffed the Au Sable Light Station Museum and Information Center.
This has largely been accomplished through the efforts of volunteer lighthouse keepers who signed up for one month tours at Au Sable. July's volunteer couple has been Mary Lee and Skip Sherwood from Fresno, California. As their tour ends and they return to the west coast, they are "breaking in" new "wickies" – Bill and Pat Costell from Florida.
The volunteers perform numerous duties each day that Park Rangers provide tours at the lighthouse, including opening facilities, assisting with the tours, staffing the museum and Eastern National bookstore, grounds maintenance including pulling knapweed, an exotic species, and much more. In the month of July, volunteers and Heritage Education Park Ranger Karena Minor have provided guided tours for over 1,200 visitors.
Mary Lee and Skip are devoted lighthouse enthusiasts. They have visited over 400 lighthouses in the U.S., Canada and Scotland. Skip is a former university marketing professor and Mary Lee an elementary teacher. They have been active in the Red Cross, breast cancer awareness, Asian immersion programs and have promoted literacy programs.
Bill and Pat Costell are native Michiganders who retired a few years ago to Bradenton, Florida. They too are lighthouse buffs, spending five summers volunteering at Big Sable Point lighthouse near Ludington. They have also volunteered at Dry Tortugas National Monument off the Florida coast.
"Volunteers are of tremendous assistance to our paid seasonal and permanent staff" noted Gregg Bruff, Chief of Heritage Education. "They extend and greatly enhance the work of National Park Service rangers, interpreters, science and maintenance workers, and we truly appreciate their dedicated contributions."
If you haven't been out to Au Sable in some time, take an afternoon to enjoy one of the Lakeshore's and Alger County's premier cultural sites. The park has added historic furnishings to the assistant keeper's quarters and the museum in the head keeper's quarters provides an interesting look at U.S. Lighthouse Service, commercial fishing, shipwreck, and lighthouse operation stories.
Note also that the Lakeshore is partnering with Altran to offer two Saturday shuttle services from Hurricane River Campground 1.5 miles out the Au Sable. On Saturday, August 9 and 23, visitors can meet the Altran van at the lower Hurricane River Campground picnic area parking for a shuttle to the lighthouse. There is a fee of $5 for this service.
While Skip and Mary Lee hope to return to Au Sable next July, the Lakeshore is looking for qualified volunteers to assist at the lighthouse next summer.
For more information on the lakeshore's lighthouse volunteers program, contact Gregg Bruff at 906-387-2607, ext. 208, or view information at
www.nps.gov/piro/historyculture/ausablelightstation.htm
Last updated: April 10, 2015