Date:
May 2, 2008
Contact:
Gregg Bruff
, 906-387-2607, ext. 208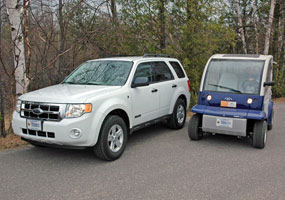 (MUNISING, Mich.) Pictured Rocks National Lakeshore has announced the completion of a Climate Friendly Parks Action Plan which addresses a set of actions the park will pursue beginning immediately to reduce greenhouse gas emissions from park operations and visitation.
"Global climate change is a threat to the ecological integrity of the park," said Lakeshore Superintendent Jim Northup. "We simply have a responsibility as citizens to do everything we can to reduce our greenhouse gas emissions at the local level."
Greenhouse gas (GHG) emissions result from the consumption of fossil fuels for energy and transportation purposes. The park's plan calls for reducing overall GHG emissions by 15% below 2005 levels by 2012.
The development of this plan began in July 2007 when Pictured Rocks National Lakeshore hosted a Climate Friendly Parks workshop, assisted by the National Park Service (NPS) Environmental Leadership Program with technical assistance from the Environmental Protection Agency and the NPS Natural Resources Stewardship and Science Division.
"We were delighted to have a number of key park partners and neighbors join us for that workshop," Northup added. "I think we all learned a lot about the science of climate change and where we need to focus our efforts."
"As part of the workshop, we calculated the total greenhouse gas emissions generated by our own park operations and from visitation to the park and were surprised to learn that together, we generate approximately 281 metric tons of greenhouse gas emissions every year," Northup added. "For us, 90 percent of that is generated by the operation of engines associated with motor vehicles, boats and snowmobiles by the NPS and by visitors to the park, but we also need to look hard at our emissions from operating and heating buildings and in the way we handle solid waste and recycling."
"We have already initiated a number of actions called for in the plan," explained Chris Case, Chief of Facility Management at Pictured Rocks. "We are working to reduce the size and emission impact of the park vehicle and equipment fleet and will be acquiring low emission snowmobiles and boat engines when they are needed in the future."
This winter, the park replaced two vehicles with less impactive electric and hybrid vehicles. This winter, with the assistance of the Upper Peninsula Power Company, the lakeshore replaced the incandescent light bulbs throughout the park with the more efficient compact fluorescent bulbs. Over the next few years, the lakeshore plans to replace old boilers and refrigerators with more efficient units and will only purchase 'best available technology,' according to Case.
"For many years, Pictured Rocks National Lakeshore has been recognized as a national leader in sustainability, and the Climate Friendly Parks Workshop provided us the opportunity to explore additional actions we need to be doing to enhance our program," Case remarked.
"The plan calls for intensifying our public education efforts," said Lakeshore Chief of Heritage Education Gregg Bruff. "We have been working with ALTRAN, our local public transportation provider, to obtain funding for an alternative fuel bus that can be used to transport backpackers and other visitors in the park. We want to work with other park partners, such as the Pictured Rocks Cruises and other folks who conduct commercial operations in the park, to help them reduce their emissions."
"We will be encouraging park visitors to do their part by reducing greenhouse gas emissions in their day-to-day lives," Bruff added. "That is what it is going to take if we are going to solve this problem."
"This is just about good stewardship," Northup added. "We will work hard to do our part and hope to continue to work with the entire community to help make this area a model of sustainability. We owe that to future generations."
Copies of the Lakeshore's Action Plan are available at
www.nps.gov/piro/climate-change
.