Date:
May 23, 2006
Contact:
Larry Hach
, 906-387-2607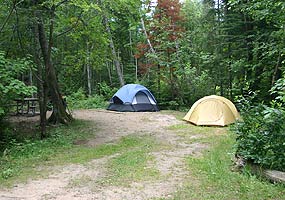 The three vehicle accessible campgrounds in Pictured Rocks National Lakeshore are open for the season. "Though the official opening date for the lakeshore campgrounds at Little Beaver Lake, Hurricane River, and Twelvemile Beach is May 10, visitors were able to begin camping at Twelvemile Beach and Hurricane River Campgrounds in mid April," according to Lakeshore Superintendent Jim Northup.
The Lakeshore's three drive-in campgrounds -- Little Beaver Lake, Twelve­mile Beach, and Hurricane River -- offer individual pull-out sites, tent pads, fire rings, and picnic tables. Vault toilets, solar-powered water systems, and garbage pick-up are also provided. Handi­capped accessible campsites are available at each of the three campgrounds.
The three drive-in campgrounds at the National Lakeshore operate on a first-come, first-serve basis with no reservations accepted. The camping fee is $12 per campsite per night, a $2 increase over the fee charged in 2005.
Holders of the Golden Age Passport - available to persons over 65 years of age - pay half of the campground use fee. The Golden Access Passport for handicapped visitors also entitles the holder to the half-price camping fee.
In addition to the campground openings, full service rest rooms at Miners Castle and Sable Falls are also open. Picnic grounds and day use areas have been cleaned up after the snowy northern winter.
"Late spring is an excellent time to visit the Pictured Rocks National Lakeshore," remarked Northup. "Spring wild flowers blanket the forest floor, many bird species migrating through the area, and the weather is ideal for exploring the hiking trails and canoeing on inland lakes."
"Although Alger County Road H-58 is closed for four miles between the Log Slide and upper Hurricane River Campground due to road, construction, all other roads are open," concluded Northup.