Date:
January 6, 2009
Contact:
Gregg Bruff
, 906-387-2607, ext. 208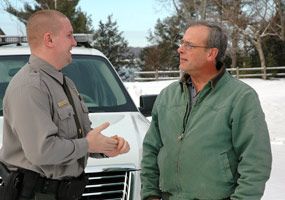 By Gregg Bruff
(Munising, Mich.) A 68 year old woman twists her ankle at the base of the Log Slide and needs to be evacuated. Someone finds an $800 Nikon digital camera and turns it in to the visitor center. A hiker encounters a marijuana grow operation while on a trail. There is a call for firefighters for a large western wildfire. Who ya gonna call?
When events like these occur within Pictured Rocks National Lakeshore, Park Rangers are at the top of the call list for visitors, other park staff, and local law enforcement agencies.
At the Lakeshore, six rangers within the Resource and Visitor Protection Division answer these and many other types of calls. Five are commissioned law enforcement rangers.
Tim Colyer has served as the Chief of Resource and Visitor Protection since January 2008. He formerly served as the East District Ranger in Grand Marais. Bill Smith, a Park Ranger based out of Munising, has been with the Lakeshore for ten years.
Two of our Park Rangers, Shaun Hughes and Brad Heyrman, are local residents who grew up with the park and now play a vital role in protecting it. Amber Tembreull joined the Lakeshore's ranger staff this summer after starting her career as a ranger with the U.S. Forest Service in California. Brenda Mannisto, another local resident, has worked for the Lakeshore for six years and divides her time between the visitor center and the Lakeshore's backcountry trail system.
But what does the term "Resource and Visitor Protection" entail? The list is long and includes some traditional as well as non-traditional National Park Service ranger duties.
One might guess that federal law enforcement is one of their prime duties. On federally owned property, Lakeshore Park Rangers enforce criminal law as well as Code of Federal Regulations (CFR) Title 36 regulations, and State of Michigan hunting and fishing regulations as prescribed by the Lakeshore's enabling legislation. CFR regulations include recreational activities such as camping, day use, preservation of natural and cultural features, commercial use, traffic laws, water based and aviation recreation, and numerous other activities.
Rangers, however, are more than just law enforcement officers. They are expected to be multi-disciplinary and receive training in Emergency Medical Services, Wildland Firefighting, Search and Rescue, Incident Command Systems, and boat operation. Rangers respond to medical emergencies that range from minor cuts and bruises to major medical emergencies and traumatic injuries. These skills are often called upon when rangers respond to overdue or lost hikers or boaters. Search and rescue training, skills and experience come into play several times each season.
National Park Service rangers respond to incidents on a much larger scale as well. As the west warms up and dries out, wildfires overwhelm local resources; National Park Service employees from across the country are called upon to assist. Park rangers frequently fill temporary firefighting or law enforcement details as the fire season rages on. And on a local level, if wildfires occur, rangers are ready to respond along with other federal and state land management agency personnel.
With their diverse training, rangers are also called upon to respond to other natural disasters across the country such as hurricane relief efforts and, in recent years, have frequently been called upon for homeland security details during times of heightened security.
Pictured Rocks National Lakeshore is the only National Park Service area with an inland buffer zone. This unusual designation was the result of the Lakeshore's enabling legislation, passed in 1966. The inland buffer zone creates another unique set of duties for park rangers whose job it is to monitor development and use of privately owned lands within that designation. Annual inspections of properties yield information that helps the NPS meet its responsibilities for overseeing county, township and the City of Munising zoning regulations. During these inspections, rangers lend a watchful eye to seasonal dwellings and hunting camps and communicate potential problems to property owners.
In remote areas such as the Lakeshore and its neighboring communities, park rangers are called upon to assist other state and local law enforcement agencies by providing an initial response to law enforcement incidents, accident scenes, and alarm activations. Rangers are also called upon to assist with arrest warrants, attempts to locate individuals, and to deliver notices to next of kin. The United States Coast Guard frequently calls upon the Lakeshore's ranger staff and vessels to help with search and rescue operations on Lake Superior.
"The job of a ranger can be challenging because so many different things are expected of you. I am both proud of and thankful for the staff that I have," remarked Chief Ranger Tim Colyer. "The collective knowledge, skills, and experience they bring to the Lakeshore helps ensure the health and safety of the visitors and the resources alike. We have a small staff and a large workload but their resilience and ingenuity never ceases to amaze me."
As you can see from this brief list of duties, Lakeshore rangers accomplish a wide variety of work in all seasons. Numerous skill sets can be called upon at a moment's notice as they respond to emergency situations or when assisting visitors during their relaxing vacation.
Next time you see a park ranger, say hi and "thank you" for the many hats they wear to safeguard visitors and the natural and cultural resources within Pictured Rocks National Lakeshore.