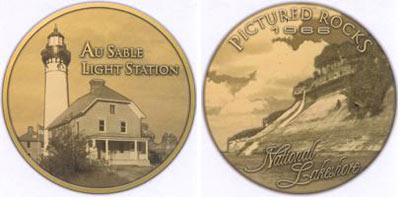 News Release Date:
July 13, 2009
Contact: Gregg Bruff, 906-387-2607, ext 208
(Munising, MICH.) Pictured Rocks National Lakeshore announces availability of a new bronze medallion, commemorating the natural and cultural history of the park. The medallion is produced by the Northwest Territorial Mint through Eastern National, the park's cooperating association that operates four bookstore outlets within the Lakeshore. Bridalveil Falls and the Au Sable Light Station grace the two sides of the 39mm medallion in bas relief. This special commemorative coin is a great gift for friends and relatives who visit the Lakeshore. The coin retails for $11.95.
Eastern National also announces a "discount weekend" on Saturday, July 18, and Sunday, July 19, where one item purchased is discounted 15%. This special is effective for the medallion, which is available at the Grand Sable Visitor Center, the Au Sable Light Station, Miners Castle, and Munising Falls.
Eastern National is a 501(c)3 non-profit cooperating association, operating in more than 150 national parks and other public trusts. EN is dedicated to the preservation and use of the parks for the benefit of all Americans, visitors from all nations and future generations. All of the products, programs and publications offered to visitors have a strong educational value. The profits from our activities are donated to the National Park Service and our other partners to further support their educational and interpretive programs.