Date:
September 10, 2014
Contact:
Amber Tembreull, 906-387-2607, ext. 208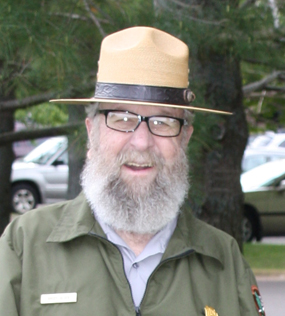 (Grand Marais, MICH.) Guy "Brody" Block will retire on September 28 following a lifetime of public service. Pictured Rocks National Lakeshore invites the community and visitors to stop by the Grand Sable Visitor Center on Friday, September 26. An open house is planned from 1 p.m. to 4 p.m. in Brody's honor. The visitor center is located at E21090 County Road H-58, about 3 miles west of Grand Marais.

Brody has served as teacher, township supervisor, and seasonal park ranger in the Grand Marais community. For decades he has assisted visitors in finding their way through Pictured Rocks National Lakeshore in a way that helped protect the park while providing the visitors with a wonderful experience.

"Brody has spent his entire life helping people, most recently for nearly 30 years as a seasonal park ranger in Grand Marais," remarked Gregg Bruff, former Chief of Interpretation at Pictured Rocks National Lakeshore. "His unique style has led visitors to seek him out as they return to the Lakeshore year after year."

Brody's public service began after graduating from Burt Township High School when he enlisted in the U.S. Coast Guard. He spent two years on Lake Michigan involved in search and rescue, and two years on the Pacific Ocean between Hawaii and Japan, during the latter part of the Korean Conflict. His unit was involved in aircraft rescue and recovery.
Upon returning to the Upper Peninsula, Brody attended Northern Michigan University and received his teaching degree. In 1962, he began his career as a teacher at Burt Township School, where he also served as principal. Brody also continued his own education, receiving a Master of Arts degree from NMU. Brody retired from this teaching career in 1989 after 27 years of educating and inspiring Grand Marais youth.
Along with his remarkable career in public service, Brody and his wife Judy have been married for 54 years and have two children and six grandchildren. Close ties to the community of Grand Marais have led him to serve in various governmental roles, including a term as Burt Township Supervisor from 1989 to 1992.
Brody never took a summer off while in college or while teaching. First he worked with area loggers. From 1974 to 1984, he worked at the Seney National Wildlife Refuge. He served as the Youth Conservation Corps Director, a position overseeing the Refuge's four YCC leaders along with 12-15 youth from the local area.
On June 11, 1984, Brody began his career with Pictured Rocks National Lakeshore as a Park Aid. He has always worked in the lakeshore's Grand Marais District. He has since enjoyed nearly 30 summer seasons with the lakeshore, working in interpretation and visitor services.
Brody is best known for his years at the Grand Sable Visitor Center. "I like dealing with the public and making friends that still come back," remarked Brody. "I like people and I love kids!"
Folks who have worked at Pictured Rocks National Lakeshore know this to be true, because former students and repeat visitors frequently stop by the Grand Sable Visitor Center to visit Brody.
Brody's institutional knowledge of the park, the local community, and his demeanor made him one of the most valuable human assets that Pictured Rocks National Lakeshore has ever employed.  
"I've enjoyed my job, and I don't know anything I would rather have done," Brody said, "I consider the people I work with and for as friends."
In his retirement, Brody and Judy will be travelling the Upper Peninsula, possibly venturing as far as Marquette, but mostly to their camp near the Hurricane River. Along with spending time at camp, Brody plans to continue hunting, fishing, reading and spoiling his six grandchildren. "Judy and I do like to putz around on the two tracks and enjoy the area," Brody quipped.
Brody, even in retirement, is sure to be checking on the lakeshore and continuing to inspire new generations of park visitors.
About the National Park Service. More than 20,000 National Park Service employees care for America's more than 400 national parks and work with communities across the nation to help preserve local history and create close-to-home recreational opportunities. Learn more at www.nps.gov.